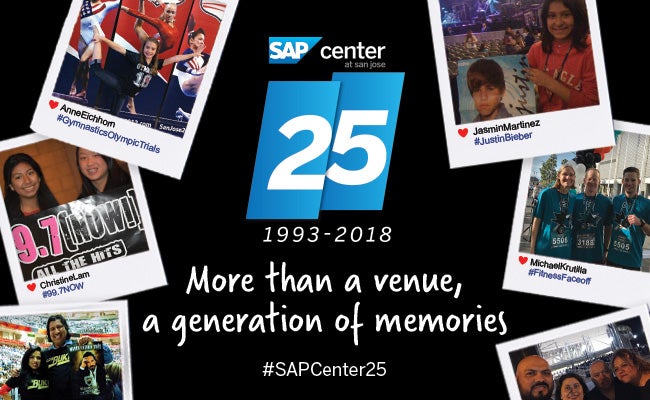 SAP Center at San Jose is celebrating 25 years of being the Bay Area's favorite venue to make memories!
For the last 25 years, you have come to cheer on the San Jose Sharks, witness Olympic gold medal winning Figure Skaters and Gymnasts, marvel at March Madness, and of course scream, dance, and rock out to Metallica, Prince, AC/DC, and Beyonce. For the last 25 years, you have joined friends, met future spouses, brought your kids to their first concert, and made memories that will last a lifetime. Now it's our turn to remember and celebrate YOU!
Submit pictures below from your favorite memory at an SAP Center event over the past 25 years and enter for your chance to win tickets to an upcoming concert. The grand prize winner will have the opportunity to attend the 2019 NHL All-Star Game as well as the Anniversary Festival in 2019.
Entries submitted on public Instagram and Twitter accounts using #SAPCenter25 will also be entered to win.
Promotion Stage #1 Winner: Karina Escoto
Promotion Stage #2: Winner: Ernesto Altamirano
Promotion Stage #3: November 1, 2018 – December 31, 2018