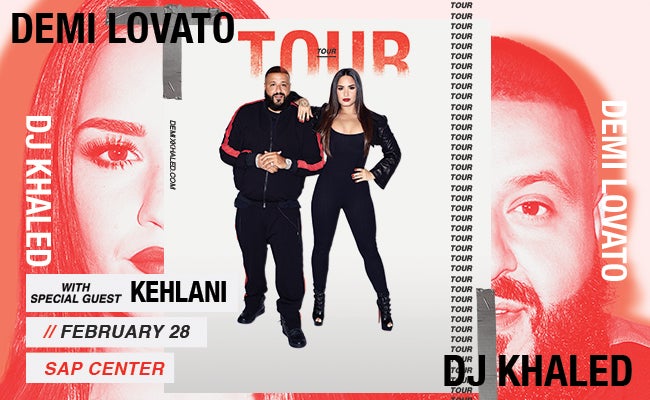 Doors Open

6:15PM

Parking

$25
Demi Lovato & DJ Khaled
with Special Guest Kehlani
Grammy®-nominated, multi-platinum singer and songwriter Demi Lovato announced her North American tour, with special guest multi-platinum, hip-hop icon DJ Khaled. Produced by Live Nation, the tour includes a stop at SAP Center at San Jose on February 28.
The announce comes off the recent release of Lovato's critically acclaimed album TELL ME YOU LOVE ME, featuring the RIAA platinum Top 40 #1 smash "Sorry Not Sorry," DJ Khaled, the GRAMMY® nominated, multi-platinum artist, producer, entrepreneur, and author, had his tenth and most recent full-length album GRATEFUL [We The Best Music Group/Epic Records] hit #1 on the Billboard Top 200 chart. It was certified RIAA Platinum with 1.1 billion streams of the album to date.
TELL ME YOU LOVE ME exploded to a #1 debut on the iTunes album chart in the U.S. and 36 territories around the world on the strength of "Sorry Not Sorry," one of the fastest-rising hits in Demi's career. Showcasing "one of the year's most unstoppable voices" (Entertainment Weekly), the track has logged over 350 million global streams, and over 200 million views for its unbridled house party video. Underscoring TELL ME YOU LOVE ME's pop soulful flair, "Sorry Not Sorry" is joined in the Top 10 at Pop radio by "No Promises," Demi's collaboration with Cheat Codes.
Demi performed "Sorry Not Sorry" on NBC's The Tonight Show starring Jimmy Fallon, ABC's Good Morning America, and the MTV VMAs. She followed up with release week appearances in support of TELL ME YOU LOVE ME on NBC Universal's Ellen, The Today Show, and MTV's TRL. On Ellen, Demi introduced her full-length official new documentary, Simply Complicated. The 78-minute film amassed more than 7 million views in the first week of release.
TELL ME YOU LOVE ME is Demi's first new album since 2015's Confident, the inaugural release on the Island/Safehouse/Hollywood label, featuring the massive global hit "Cool For the Summer," with over 290 million YouTube views to date. Rolling Stone described Confident as "the album she was born to make: a brassy, sleek, dynamic pop production that lets her powerful voice soar to new emotional highs." Her previous album, 2013's self-titled Demi, hit #1 on iTunes in over 50 countries worldwide.
Demi will join the lineup for the 2017 MTV EMAs extravaganza, live from London's SSE Arena in Wembley on November 12. Demi Lovato is one of the most influential names on social media, with an engaged combined following of over 145 million.
About DJ Khaled / We The Best Music Group
A major force in the music industry, mogul, executive, mega producer, 2017 Grammy nominated recording artist, and NY Times Best Selling Author DJ Khaled, known as the "Anthem King" and commonly referred to as the "Quincy Jones of Hip Hop & R&B", has made dozens of chart topping hit records featuring JAY Z, Kanye West, Drake, Chris Brown, Ludacris, T.I., French Montana, Future, Big Sean, Rick Ross, Rihanna, Justin Bieber, John Legend, Nicki Minaj and Lil Wayne, among others. In the past twelve months he has captivated millions of fans globally by the use of social media and has been coined the "King of Snapchat."