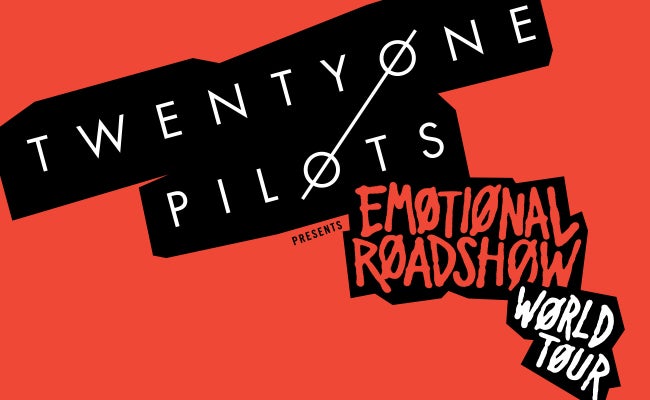 Doors Open

6PM

Parking

$25
Twenty One Pilots
TWENTY ONE PILOTS SET NEW "EMØTIØNAL RØADSHØW" WORLD DATES
NEW SINGLE "RIDE" SPENDS SIX CONSECUTIVE WEEKS ATOP MODERN ROCK CHARTS
RIAA PLATINUM CERTIFIED "BLURRYFACE" AVAILABLE EVERYWHERE NOW
Fueled By Ramen recording group Twenty One Pilots has announced details of their upcoming world tour. Meanwhile, "Ride," the latest hit from the RIAA platinum certified blockbuster "BLURRYFACE," spent six consecutive weeks atop the charts at Modern Rock radio outlets nationwide – the band's second #1 single at the format this year. What's more, "Ride" is rising quickly at Top 40 radio with its companion music video – directed by longtime collaborator Reel Bear Media – garnering over 40 million views via Twenty One Pilots' official YouTube channel.
The success of "Ride" follows Twenty One Pilots' RIAA 2x platinum certified smash, "Stressed Out," which spent three months at #1 at Modern Rock while also topping the charts at CHR/Top 40 and Hot AC. The track – which recently received the iHeartRadio Music Award for "Alternative Rock Song of the Year" – has proven a true multi-format phenomenon, reaching #2 on Billboard's "Hot 100" while ascending to the pinnacle position at CHR/Top 40, Hot AC, and Alternative.
Twenty One Pilots – who only just returned home from show stopping performances at Lolla South America in Brazil, Chile, and Argentina – have received a number of major awards nominations in recent weeks, including four nods for the 2016 Billboard Music Awards: "Top Duo/Group," "Top Rock Artist," "Top Rock Album (for "BLURRYFACE")," and "Top Rock Song" (for "Stressed Out"). The 2016 Billboard Music Awards will be presented Sunday, May 22nd at Las Vegas, NV's T-Mobile Arena and broadcast live on ABC (check local listings).
"BLURRYFACE" – which also includes the RIAA gold certified single, "Tear In My Heart" – made a stunning chart debut upon its 2015 release, entering the SoundScan/Billboard 200 at #1 with total sales exceeding 147,000. The album further served as the duo's international breakthrough, reaching the top 5 in Canada as well as the top 20 in Australia, Ireland, New Zealand, and the United Kingdom. Furthermore, Twenty One Pilots' Tyler Joseph stands as the #1 songwriter in the first quarter of 2016 on the strength "Stressed Out," besting veteran writers with multiple hits to their name, while "Stressed Out" became the first song penned by a single writer to top the Pop charts in nearly two years. "BLURRYFACE" follows Twenty One Pilots' 2013 Fueled By Ramen debut album, "VESSEL," certified gold by the RIAA and boasting a trio of gold certified hit singles in "Holding On To You," "Car Radio" and "House of Gold."