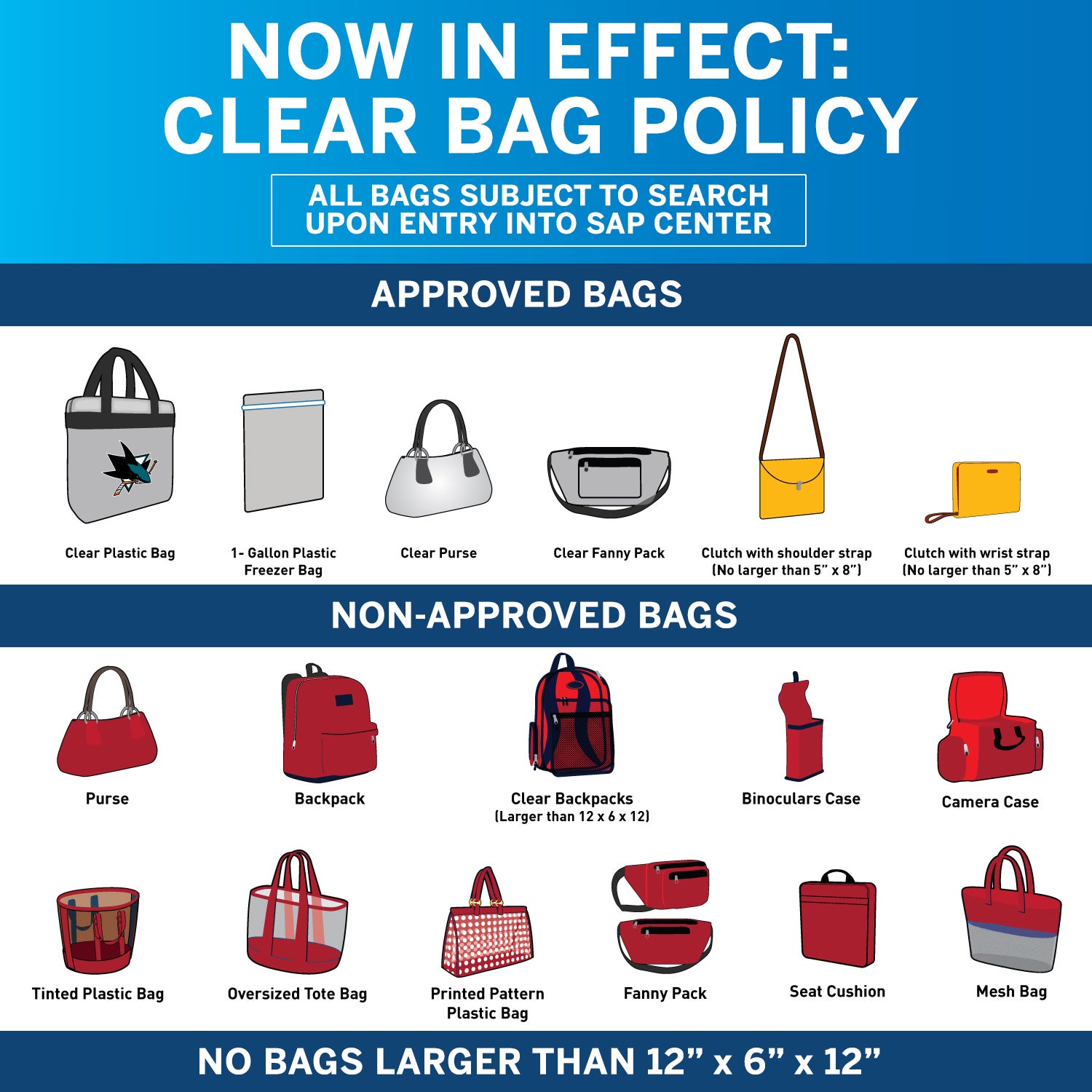 Am I allowed to carry a bag into SAP Center?

Bags must be clear and not exceed 12" x 6" x 12" in dimension or be a small clutch purse no larger than 5.0" x 8.0" to be allowed in.

What if I have special medical equipment or a breast pump I need to have with me?

Bags carrying items that are medical in nature such as prescription medication, breast pumps and other special medical equipment will be permitted. These bags will be searched and marked with a colored wristband.

What should guests do if they bring a bag not meeting the bag standards & guidelines?

Guests with bags not meeting guidelines will be asked to return it to a vehicle or utilize the onsite bag check. Bag check is available for a $5.00 fee onsite. SAP Center and the San Jose Sharks are not responsible for items left at any of the entrances.

Am I allowed to bring a diaper bag into SAP Center?

Diaper Bags are permitted when accompanied by a child that wears diapers.

Can I bring a clear back pack into SAP Center?

You can if it is no larger than 12" x 6" x 12". If your clear back is larger than 12' x 6' x 12" then we will ask you to return it to your vehicle or check the bag using our onsite services.

What can I expect when I arrive at an entrance?

As you approach an entrance, remove items from your pockets and place it along with any bags on the table provided. Fans will not be asked to remove jacket or shoes. Cell phones and cameras must be set on the designated table or remain in your bag prior to passing through the metal detector. Wait for the staff to direct you through the metal detector. Once through, gather personal belongings and proceed to the ticket taker.

Are there still going to be Express Lanes for guests not carrying bags?

Yes, the South Entrance will continue to have lanes dedicated for guests that are not carrying bags or clutches. Guests with clear bags or clutches will need to enter from the ques on Autumn and Santa Clara street to enter.

Why is SAP Center limiting bag size and using metal detectors?

To provide a safe environment for the public and expedite guest entry into arena.

What happens if an alert goes off when I walk through?

If a walk-through metal detector alerts a Magnetometer attendant to the presence of items that require further inspection, guests will be directed to the side, where they will be re-screened via a hand-held metal detector or physical pat-down. When the items in question are discovered, individuals will be asked to display them and/or allow an attendant to examine them. At this time, the attendant will determine whether these items will be permitted into SAP Center.

Do I need to remove my belt, shoes, and jacket?

It is possible based upon the location of an alarm on the magnetometer, however it is not needed unless asked by a metal detector attendant.

What if I come in with a mobility device, stroller or if I am medically unable to enter through a metal detector?

At the North and South entrances there is a designated ADA area. Guests using these lanes will be subject to a pat-down search and/or use of hand-held metal detector as well inspection of the mobility device or stroller. ADA locations are identified with signage at each entrance.

What time do the entrances open?

For Sharks home games, entrances open 90 minutes prior for Sharks365 members and 75 minutes prior to game time to accommodate for the security measures. Event doors vary by event.

I have a concealed weapon permit; may I bring in my firearm?

SAP Center and the San Jose Sharks ban firearms on our premises.

What should guests do with prohibited items?

Guests should not bring prohibited items. Prohibited items discovered at the entrances either will be discarded or will need to be returned to a vehicle. We cannot maintain custody of any such items on behalf of guests. SAP Center and the San Jose Sharks are not responsible for items left at any of the gates.

Am I allowed to bring my iPad or personal device?

Yes. iPads, personal devices and lap tops are permitted to be brought into San Jose Sharks games. However, iPads are prohibited at all concerts.

What if I need my seat cushion for a medical reason?

Every seat at SAP Center does have a seat cushion. However, if you have a medical condition that requires additional support, your cushion would be searched and then permitted.

Is there a limit on how many clear bags I can bring in?

No, there is no limit however all bags need to comply with our Clear Bag Policy.