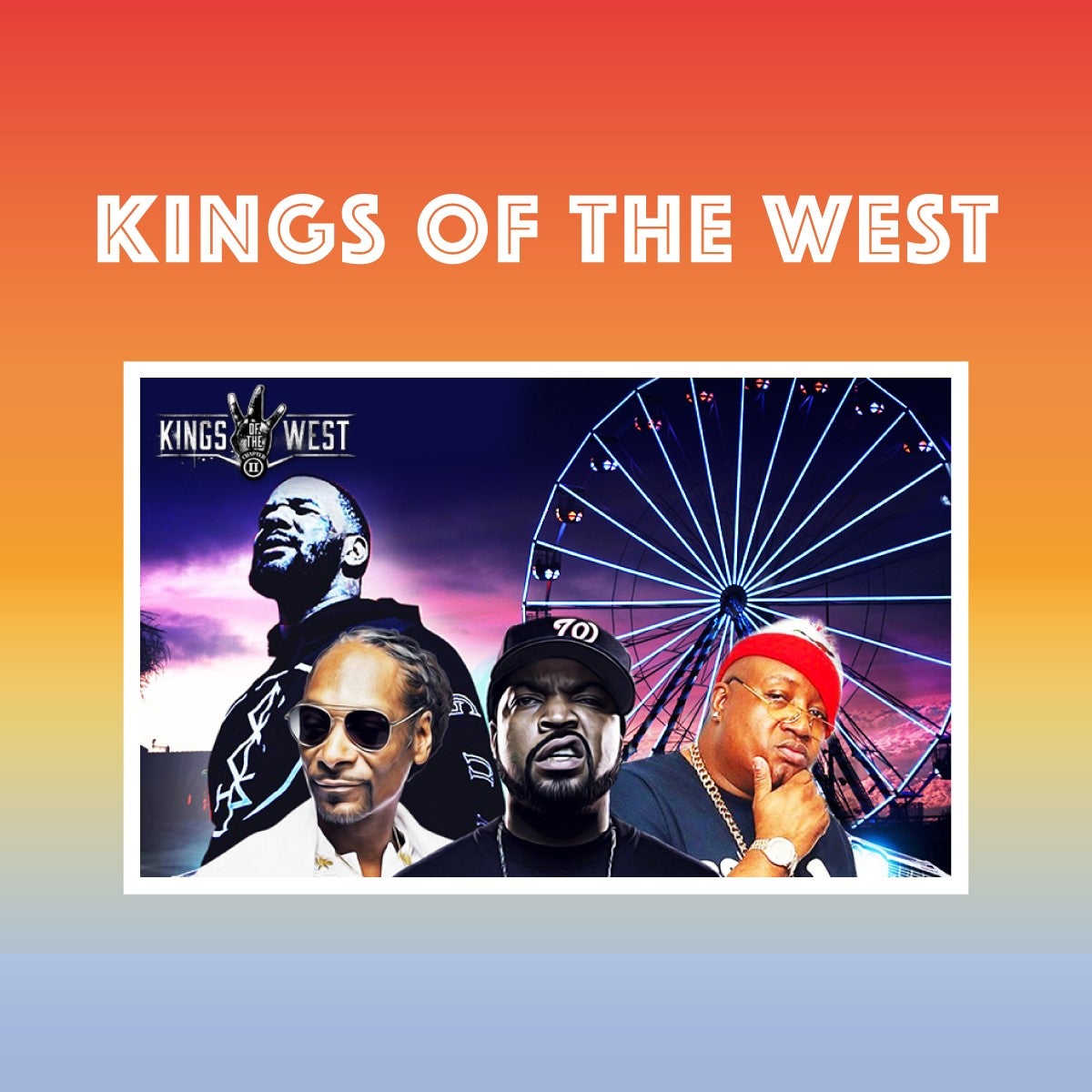 Snoop Dogg, Ice Cube, E-40, The Game, Too Short, Warren G, The Psycho Realm, and Berner
---
Ice Cube
Ice Cube began his career with the notorious gangsta rap group N.W.A. He broke away at the height of their national notoriety. On his initial solo release, 1990's Amerikkka's Most Wanted, Ice Cube injected virulent political and cultural rhetoric that stepped above N.W.A's gangbanging braggadocio. Ice Cube squashed the bi-coastal rap rivalry and collaborated with New York's hip-hop heavyweights Public Enemy. Their production team, the Bomb Squad, produced Amerikkka's Most Wanted. The track "Amerikkka's Most Wanted" was his debut solo single and was #1 on the Hot Rap Single chart. The album sold over a million copies.
Ice Cube became a lightning rod for attracting attacks from rock critics and moralists for his lyrical content. Time has shown that the ruthless words and pointed imagery on both Amerikkka's Most Wanted and 1991's pre-LA riots Death Certificate were not included for shock-value. The message construed in his rhymes presaged Los Angeles's incendiary reaction to the outcome of the Rodney King trial. America was now listening to Ice Cube. Death Certificate debuted at #1 on the R&B Album chart and #2 on the Top 200 Album chart.
In 1992, Ice Cube continued his vocal incursion into suburban America with a role in John Singleton's epic film on South Central LA, Boyz In The Hood and by touring on the second Lollapalooza. His next release, The Predator, galvanized him as the premiere multi-platinum West Coast hip-hop G. It debuted at #1 on both the R&B and Top 200 Album charts. The Predator was an epilogue to the LA riots and while "It Was A Good Day" provides a hassle-free moment in a Compton day, there is still dissonance in Ice Cube's America. 1993's Lethal Injection sees Ice Cube morphing into his "Don Mega" persona that permeates his War & Peace albums and projects with Westside Connection.
These first four albums set him up for his later successes. In addition to his War & Peace two-album series, Ice Cube has recently starred in The Friday After Next, the 3rd installment of his multi-million dollar earning Friday movie franchise, Player's Club and the critically praised Barbershop.
Snoop Dogg
Calvin Broadus has long established himself as a man of many aliases. When he slid in "Deep Cover" in 1992, he defiantly referred to himself as 'Snoop Eastwood,' a nod to a certain cinematic icon. In the twenty years that have passed the man has forged his own legendary trajectory. In a career when he has been most commonly known as Snoop Dogg, he has reached the pinnacle of superstardom. Snoop has headlined tours that continue to live in infamy; released back-to-back Platinum albums; created his own record label; and starred in blockbuster movies. He is so respected in the Hip-Hop community that his peers frequently refer to him as 'Uncle Snoop,' an indication of their admiration. A twenty-year run that has seen him receive every Rap accolade imaginable was effectively capped when he was bestowed with the BMI Icon award last year.
Snoop's moniker has always adapted to his position in life. Snoop Doggy Dogg was the young man suddenly made the focus of unprecedented media scrutiny. Snoop Dogg reflected the relatively assured artist of later years, whether aligning himself with Master P's southern powerhouse No Limit Records or growing as an entrepreneur. Tha Bigg Boss Dogg is the authoritative Hip-Hop veteran who has acted as a mentor to emerging talent like Wiz Khalifa. What those names share, however, is their connotations with the genre of Hip-Hop. The "Dogg" handles are immediately associated with definitive gangsta rap – music that uncompromisingly details violence, misogyny, and crime.
Gangsta rap is no longer the sole reflection of Calvin Broadus. As those closest to him have always attested, he is ultimately a kind, intelligent, and positive person. Having extended his scope beyond the aggressive brand of music he helped popularize, the curious artist made a life-changing pilgrimage to Jamaica earlier this year. Few people could have predicted how radically this travel would affect the artist's outlook on life. Wholeheartedly embracing the Rastafari culture of the country, Snoop experienced what is best described as a spiritual and creative awakening. This revelation resulted in the epitaph of one moniker and the prologue of another. Snoop Lion is born.
This startling transformation is best exemplified in Broadus' first forthcoming album as Snoop Lion, the fittingly titled Reincarnated. Intent on incorporating his newfound love of Jah into his musical output, the album is an authentic reggae release unlike anything ever heard from Snoop. Voyeuristic raps about street culture have been exchanged for impassioned calls to arms, such as the sobering "No Guns Allowed." The title is an obvious indication of the track's message, urging a troubled youth to put down their weapons and embrace one another. "Here Comes The King," meanwhile, is a regal introduction to Snoop Lion and his welcoming musical stance.
News of Snoop adapting to the Rastafari lifestyle prompted countless international reports and fervent speculation. Fans' widespread intrigue will be satiated by Reincarnated's accompanying documentary. Partnering with the team at VICE, this feature allows viewers an unprecedented look into Snoop's touching journey, his acceptance of Rastafarianism, and the creation of an album that begins a new chapter for one of the world's most prominent entertainers. With unfiltered access to Snoop Lion and the album's executive producers, the widely acclaimed Diplo and Major Lazer, Reincarnated has already been accepted into the Toronto International Film Festival.
More Info