Guest Safety Guidelines
---
We have missed you and are thrilled to welcome you back to SAP Center at San Jose!
The health and safety of our guests, athletes, performers, and team members is and has always been our number one priority. As we continue welcoming you back into our venue, you can trust that we are working closely with state and local health officials to responsibly and thoughtfully implement new safety protocols to provide you a safe and enjoyable experience. Though things may be a bit different than the last time you joined us, we are so pleased to give you a reason to cheer and begin creating more unforgettable memories with you.
VACCINATION & HEALTH VERIFICATION REQUIREMENTS
In accordance with the current City of San Jose mandate, all SAP Center guests ages 12 and older must be fully vaccinated and show proof of their vaccination status to enter the venue.
Additionally, in accordance with the current State of California requirements, all guests who are ages 3 to 11 must be either fully vaccinated or present proof of a negative COVID-19 test result taken within these time frames:
Antigen Tests conducted within one day
PCR Tests conducted within two days
As a reminder, to qualify as fully vaccinated, the final dose of your COVID-19 vaccine must have been administered at least 14 days prior to the event you are planning to attend.
For the convenience of our guests, the Sharks have partnered with CLEAR and Total Testing Solutions.
CLEAR's Health Pass Technology is free to use and offers all guests 14 years of age and older the ability to provide proof of vaccination status right from their mobile device. It also ensures the fastest possible entry into SAP Center Details on this technology can be found here (links to CLEAR page)
Total Testing Solutions will offer complimentary COVID-19 testing for all guests ages 3 to 11 who are not fully vaccinated. Testing will be located near the South Entrance of SAP Center and adjacent to the Lexis Nexis Risk Solutions Ticket Office located on Barack Obama Boulevard. Testing will be available beginning one hour before SAP Center doors open for each event. Please note: a parent or guardian's health insurance card or driver's license will be required prior to the administration of a COVID-19 test.
As a reminder, these requirements will remain in place until state and local health and safety guidance is revised. For more information, please click here.
GENERAL SAFETY INFORMATION
FACIAL COVERINGS REQUIRED: All SAP Center guests and staff are required to wear facial coverings at all times inside SAP Center except when actively eating or drinking.
DIGITAL TICKETING: All tickets for events at SAP Center are issued as digital tickets accessible right from guests' mobile devices. Tickets purchased through SAP Center, the San Jose Sharks and/or the San Jose Barracuda are available through the Sharks + SAP Center Mobile App presented by Western Digital, the Ticketmaster mobile app, or via mobile web. Physical tickets will no longer be issued.
CASHLESS RETAIL: To limit the number of touchpoints between guests and team members, all retail and concession purchases are now a cashless experience at SAP Center. Major credit and debit cards along with mobile payments will be accepted at all SAP Center points of sale. Reverse ATMs are available for guests to convert their cash into debit card(s) that can be used inside SAP Center and wherever major credit and debit cards are accepted.
IF YOU ARE NOT FEELING WELL, STAY HOME: If you are feeling ill and/or know that you have been exposed to COVID-19, please stay home.
GBAC
GBAC STAR SERVICE: Because your safety and well-being are of paramount importance to us, heightened sanitation, health, and safety protocols are already in place at SAP Center at San Jose. The new procedures and processes not only follow all guidelines set forth by the Centers for Disease Control and Prevention (CDC), the State of California's Blueprint for a Safer Economy, and local agencies including the County of Santa Clara Public Health Department, they have also earned SAP Center the highest level of GBAC STAR Facility Accreditation as determined by the world's most respected venue industry cleaning association.
How do I know that SAP Center is safe?

Guest and employee safety is our top priority. Within SAP Center, we have implemented numerous enhanced safety measures which have garnered our venue the GBAC Certification for maintaining the highest cleaning and disinfecting standards. SAP Center continuously reviews and adheres to the strictest requirements set forth by both state and local Health Departments to ensure our venue's policies and procedures are in line with current health guidance.

Will you be requiring facial coverings for entry?

Yes. All guests and employees are required to wear a facial covering at all times while inside SAP Center except when actively eating or drinking.

Are there any requirements for facial coverings?

In accordance with current Santa Clara County health guidelines, a facial covering must be well-fitted to an individual and cover the nose and mouth, especially while talking.
Please note: gaiters, scarfs, ski masks, balaclavas, bandanas, turtlenecks, collars, or a single layer of fabric or any mask that has an unfiltered one-way exhaust valve do not meet the current facial covering safety requirements and are therefore not permitted.

For additional details on facial covering guidance, please click here.

Will seating be set up with any type of social distancing?

All events coming to SAP Center have been designed as full-capacity events, which means there will be little to no social distancing between seated and/or general admission guests.

Though there are no socially distant seating options available, please know that SAP Center has implemented numerous enhanced measures to ensure the safety of all our guests and team members.

What is being done to ensure SAP Center's Air Quality is healthy?

SAP Center's mechanical heating, ventilation and cooling systems were designed with customer safety and comfort at the forefront. SAP Center has recently undergone a comprehensive facility ventilation study conducted by ME Engineers. Occupied spaces of SAP Center have airflow and Air Exchanges (ACH) that meet NHL's requirements of three (3) Outside Air Changes (OCH) per hour or six (6) Air Changes (ACH) per hour.

Each air handling zone of SAP Center is monitored and can always be programmed to utilize 100% outside air exchange rate in all zones. This ensures all current Center for Disease Control (CDC) and ASHRAE recommendations are met or exceeded, and that SAP Center provides safe and healthy air quality for athletes, performers, team members, and guests.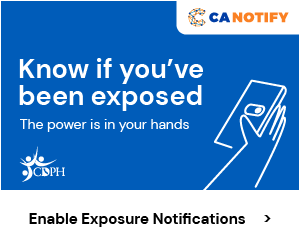 CA Notify is a free exposure notification system for smartphones—made possible by the California Department of Public Health—to alert you if you've been exposed to COVID-19. CA Notify is easy to use, private, secure, and 100% voluntary. It's available for both iPhone and Android phones. CA Notify helps keep communities safe from COVID-19 by alerting people if they need to get tested or stay home.
For more information and to download the app, visit canotify.ca.gov.
.