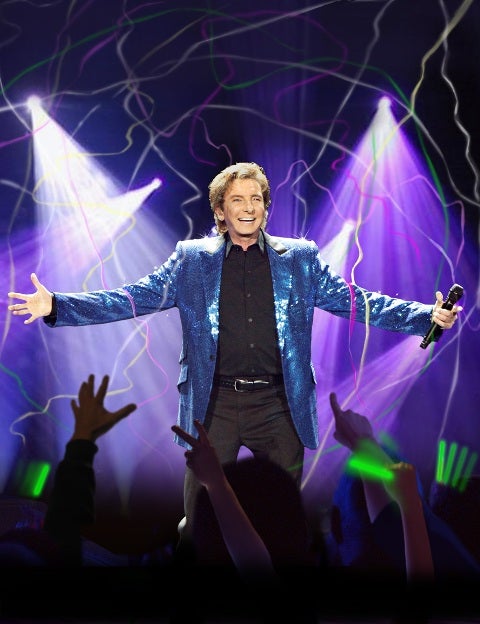 Doors Open

6:30PM

Ticket Prices

$19.75-$179.75

Parking

$25
Barry Manilow
with special guest Dave Koz
Barry Manilow announced that he is going to "hit the road" and perform concerts across North America ONE LAST TIME! The music legend will launch his multiple-city ONE LAST TIME! Tour beginning in Omaha, NE on February 11, 2015 and travel to Boston, Philadelphia, Atlanta, Pittsburgh, Chicago, Washington, D.C., Los Angeles, Seattle and more before performing for the first time at Barclays Center in his native Brooklyn on the superstar's June 17th birthday.
With his band of 13 musicians and singers, Manilow said, "We're having a great time putting the show together. We hope to take everyone on an emotional roller coaster. I can't wait to see everyone dancing in the aisles."
After performing more than 400 concerts at the Las Vegas Hilton and Paris Las Vegas from 2005 through 2011, Manilow has limited his concert appearances. The ONE LAST TIME! Tour is a major undertaking and as Manilow said, "is my way of thanking everyone for their years of support…one last time!"
The GRAMMY®, TONY®, and EMMY® Award-winning musician's career skyrocketed to superstardom when his mega hit song, "Mandy," topped the charts in 1975. In the spirit of that special year, tickets will be priced to tie into that year and will start at $19.75. According to concert promoter AEG Live, Manilow insisted that the average ticket price remain low and that a greater range of ticket prices be available.
American Express® Card Members can purchase tickets before the general public beginning Wednesday, November 19 at 12pm noon (local) in most markets.
Tickets for most markets go on sale to the public beginning Monday, November 24 at 10AM at www.aeglive.com. General information about the ONE LAST TIME! Tour is available at www.manilow.com.
Exclusive VIP Packages will be available. In addition to great seats, VIP packages include limited edition memorabilia, VIP parking, and much more!
Manilow released his latest album, MY DREAM DUETS, on October 27. The album debuted at #4 and is Manilow's 15th Top 10 album. Modern technology has given Manilow the opportunity to record his "dream" duets with his own musical heroes on his latest album. From cherished idols like Judy Garland and Louis Armstrong to contemporary icons like Whitney Houston and John Denver, they have all joined Barry in his "virtual recording studio." MY DREAM DUETS is in stores now.