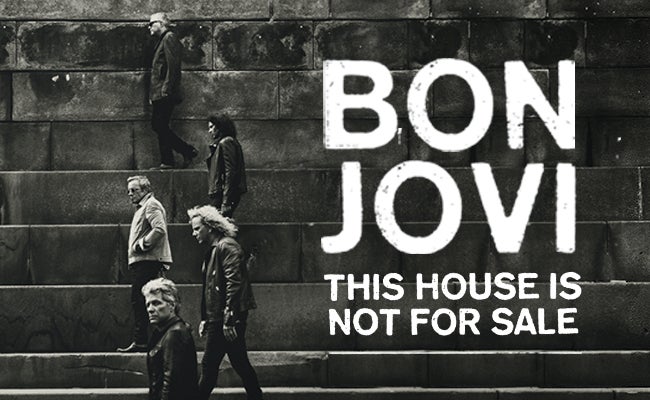 Doors Open

6:30PM

Parking

$25
Bon Jovi
Grammy Award®-winning band, Bon Jovi announced that the This House Is Not for Sale Tour, presented by Live Nation is hitting arenas across the U.S.! The iconic rock band will present anthems, fan favorites, and new hits from their upcoming 14th studio album, This House Is Not for Sale. As an added bonus, fans will receive a physical copy of This House Is Not For Sale with every ticket purchased.
This will be the band's first outing since Bon Jovi's 2013 Because We Can World Tour, which was their third tour in six years to be ranked the #1 top-grossing tour in the world (a feat accomplished by only The Rolling Stones previously). Bon Jovi's touring legacy will be recognized Nov. 9th with the 2016 "Legend of Live" award at the Billboard Touring Conference & Awards.
In January, Jon Bon Jovi announced on Facebook Live an exciting opening act contest to give musicians the chance to open an arena date on Bon Jovi's This House Is Not For Sale Tour. To enter the competition, thousands of musicians uploaded audition videos at www.bonjovi.com/2017-opening-act-contest/ or the Bon Jovi and Live Nation Facebook pages. To pick the winner for each tour date, Live Nation chose 10 finalists and Bon Jovi management selected the contest winner from the shortlist. After an intense competition, hometown hero Thadeus Gonzalez has been chosen as the winner of Bon Jovi's opening act contest for San Jose on March 1.
"The band would like to thank Bon Jovi, Live Nation and most of all the artists, musicians, and fans that support the local arts and music communities here in the Bay Area," said Thadeus Gonzalez. "We can't wait to bring our brand of rock & roll to the SAP Center in San Jose."