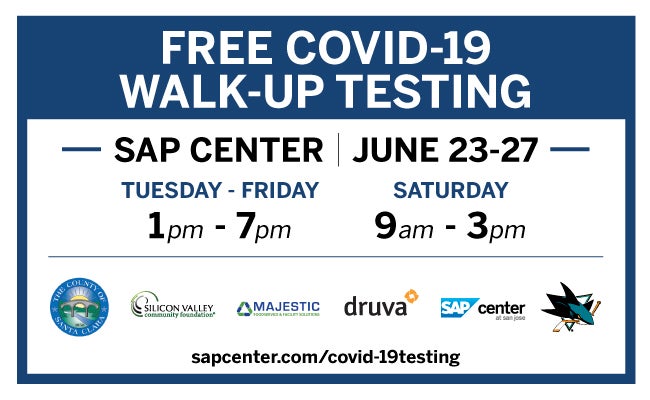 FREE COVID-19 WALK-UP TESTING
The San Jose Sharks and the County of Santa Clara, in partnership with The Silicon Valley Community Foundation, Druva and Majestic Sales are teaming up to provide residents with free and easy walk-up COVID-19 testing at SAP Center at San Jose from June 23 through June 27.
No appointment, health insurance or doctor's note is needed for this free testing, which is available to all attendees regardless of immigration status. Testing at SAP Center will be available from 1 p.m. to 7 p.m. Tues. June 23 through Fri., June 26, and from 9 a.m. to 3 p.m. on Sat., June 27.
Residents who visit SAP Center to get tested will each receive an item of San Jose Sharks or San Jose Barracuda memorabilia (one per testee). One randomly selected testee will receive a free San Jose Sharks jersey for participating. Additionally, Druva and Majestic Sales are donating 500 PPE care packages, consisting of a pair of gloves, a mask and sanitizing wipes which will be distributed to the first 500 residents to be tested.
"We continue our drive to make testing as easy and convenient as possible for all residents of Santa Clara County," said County of Santa Clara President of the Board of Supervisors Cindy Chavez. "This opportunity presents a new location centrally located in the county."
"It is our privilege to partner with the County of Santa Clara to provide free COVID-19 testing at SAP Center at San Jose," said Sharks Sports & Entertainment President Jonathan Becher. "Although we cannot currently host and entertain the millions of sports and entertainment fans located throughout the Bay Area, it is important that we do our part to help reduce the transmission of this virus. I want to offer a special thanks to our partners, Druva and Majestic Sales, for their generous contributions to our residents on behalf of the County of Santa Clara and the Sharks."
Testing can identify COVID-19 before a person feels unwell or before they spread it to another individual with potentially deadly consequences.
Although every Santa Clara County resident can now get a free nasal swab test, testing is especially encouraged for asymptomatic individuals who are at higher risk because they work in frontline settings or because they've had significant interaction with members of the public. This includes grocery store clerks, construction workers, retail associates, first responders, and other workers, as well as individuals who regularly ride public transit or have recently attended a mass gathering.
There are currently more than 50 COVID-19 test locations in Santa Clara County, including those at community centers and schools, hospitals and clinics, and mobile testing centers.
The tests offered are viral detection tests, which diagnose a person who currently has the infection. Read more about the difference between viral detection tests and serology tests at www.sccgov.org/sites/covid19/Pages/covid19-testing-learn-more.aspx#types.
For individuals experiencing symptoms or who have come into close contact with a person who has tested positive for COVID-19, the Public Health Department strongly recommends getting tested by calling a doctor or scheduling an appointment through one of the community based drive through sites.
All County test sites, and additional sites operated by other organizations are mapped on the County's website at sccfreetest.org. The site is available in English, Spanish, Vietnamese, Chinese and Tagalog. Information is also available by calling 2-1-1.