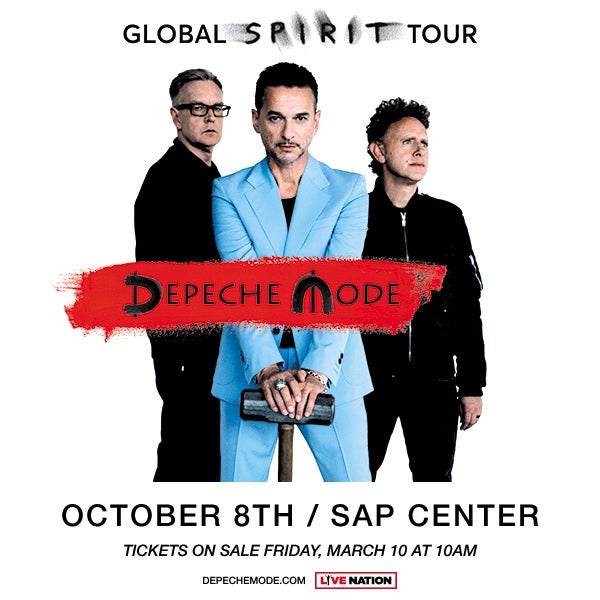 Doors Open

6:15PM

Parking

$25
Depeche Mode
Global Spirit Tour with Special Guests Warpaint
As promised, Depeche Mode continues to roll out their Global Spirit Tour, with the second leg bringing their stunning live show to fans across North America this fall. The European stadium leg of the Global Spirit Tour, running May through July, has already sold over 1.5 million tickets and has sold-out shows across Europe - just the start of what is poised to be a record-breaking global tour. The Global Spirit Tour will later bring the band to Latin America, with details to be announced shortly.

The Global Spirit Tour is in support of the band's upcoming 14th studio album, Spirit, out on March 17th via Columbia Records. The album's powerful and timely first single, "Where's The Revolution", has already been well-received by critics and fans alike, lauded as a strong "return to form" for Depeche Mode. Spirit has already garnered critical acclaim in early previews, with Q Magazine calling it "the most energized Depeche Mode album in years".

On the North American leg of the Global Spirit Tour, the band will continue their charity partnership with Swiss watch maker Hublot, raising money and awareness for charity: water toward their mission of providing safe drinking water to everyone in the world.
Depeche Mode is excited to have Warpaint as the opener for all US & Canada dates of the Global Spirit tour.

Rolling Stone recently praised their single "Whiteout," saying the track "enshrouds an austerely crackling dub-funk beat in refracted guitar shimmer as interweaving voices resolve in a Sufi state of opaque desire." Their critically acclaimed third album "Heads Up" was released in September of 2016.

For more on Warpaint, visit their website at warpaintwarpaint.com.