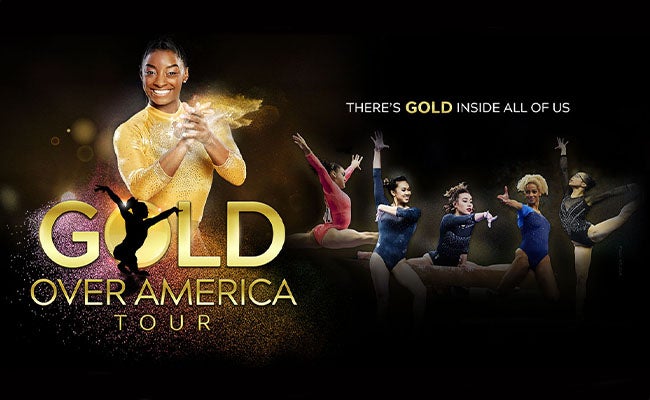 Doors Open

6:00 pm

Ticket Prices

Standard Tickets $30.50 - $195.50

Parking

2.5 hours before show; $25 ABC; $25 Delmas; $15 AFP; $15 Stephen's Meat; $15 Comerica
Gold Over America Tour
starring Simone Biles
Simone! Jade! MyKayla! Jordan! Grace!
Simone Biles and Teammates Headline Athleta Presents Gold Over America Tour Landing at SAP Center at San Jose on Sunday, September 26
Fans Favorites Laurie Hernandez, Katelyn Ohashi, Morgan Hurd and Chellsie Memmel will be on Tour in One of the Greatest Line Up of Gymnasts Ever
Fans Can Dance in the Show Finale with all the Gymnasts
The GOLD OVER AMERICA TOUR starring SIMONE BILES is a celebration of powerful female athletes who, together, are a united force proudly representing the sport of women's gymnastics and inspiring the next generation of athletes.
Biles and an all-star team of gymnasts featuring Laurie Hernandez, Katelyn Ohashi, Peng Peng Lee, Danusia Francis, and Morgan Hurd among others will celebrate world-class gymnastics in the afterglow of the world's preeminent international competition in a way you've never seen before… their way!
The GOLD OVER AMERICA TOUR will be a high-octane, fun-filled experience that will not only showcase athletic brilliance but also showcase each athlete's own inspiring championship journeys and bring the audience closer to the action than ever before.
GYMNASTICS CLUBS
A special gymnastics club sales program starts February 17, 2021. Please contact the group sales team here, for more information.
Sign up here to receive more information.
PREMIUM & VIP EXPERIENCES
To sign up for more information about VIP packages and a chance to participate in the show finale of the Athleta Presents Gold Over America Tour, visit www.GoldOverAmericaTour.com. By purchasing the Gold Squad Premium Upgrade, fans will have an opportunity to dance in the show finale with all the gymnasts click here.