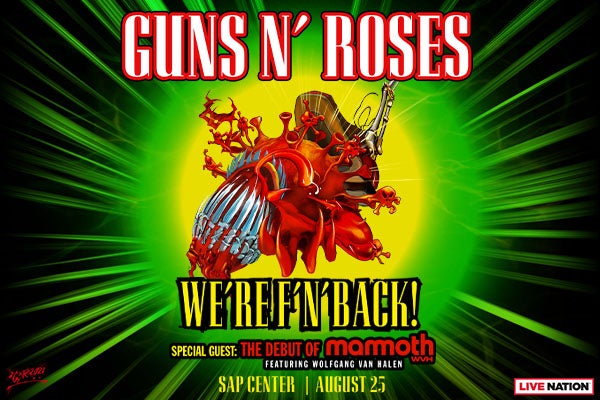 Doors Open

6:00 pm

Ticket Prices

$35.50-225.50

Parking

2.5 hours before show; $40 ABC Delmas & Stephen's Meats; $25 AFP; $15.00 Comerica
Guns 'N Roses
Jack Daniel's Concert Experience Available (VIP)
Guns N' Roses announced North American dates as the powerhouse performers bring their uninhibited signature sound and dominance to millions of fans across the globe.
The iconic rock heroes show off their vast catalogue of hits on the road including "Welcome to the Jungle," "Paradise City," "Sweet Child o' Mine," and "November Rain." The announcement comes on the heels of the band's first show of the decade at Super Bowl Music Fest that invaded Miami for Super Bowl LIV.
In 2016, Axl Rose, Slash and Duff McKagan shocked and thrilled fans around the world after revealing they were reuniting for their now historic Not In This Lifetime Tour. The band brought endless energy to more than 150 shows, playing for more than 5.5 million fans worldwide.