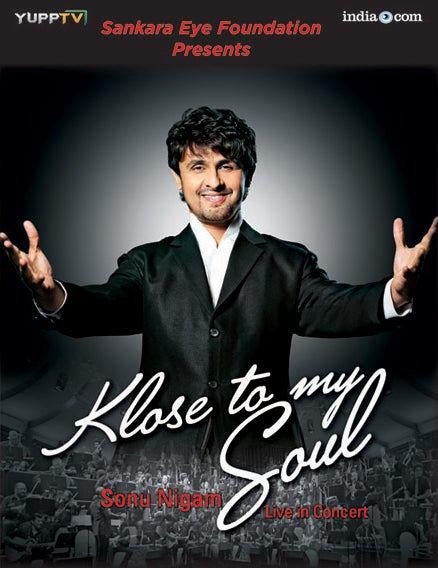 Doors Open

6:30PM

Parking

$20

Camera Policy

NO VIDEO & AUDIO RECORDERS, NO CAMERAS
Sonu Nigam: Klose to My Soul
Sankara Eye Foundation (SEF) presents Sonu Nigam, in "Klose to my Soul" Concert
Sankara Eye Foundation and Sonu Nigam are coming together once again to bring forth another extravagant event for your entire family to enjoy on May 25th, 2014, at SAP Center, San Jose. Live. This is one venue that is guaranteed to take your breath away! It goes without saying that Sonu Nigam's performance with his live orchestra band of over 50 talented musicians will set the stage on fire. Please join us for an enchanting evening with Sonu Nigam at the SAP Center San Jose. Live on May 25, 2014.
Sonu Nigam, is Bollywood's living legend - a multi-talented artist who along with being a fabulous singer is also an actor, comedian, music director, musician and composer. His voice has captured the hearts of millions not only in India but worldwide along with his international song "I Wanna Go" to his credit with Britney Spears and "A Tribute to Michael Jackson" album with Jermaine Jackson. Sonu started his career in Bollywood by singing late Mohammad Rafi songs and he is coming near you at the SAP Center. Live in San Jose to take you on a magical journey down yester year's memory lane to today's super hit melodies.
His vitality, devotion, desire and aspiration to music has made him the most sought after icon in Bollywood as he creates a heavenly connection with his compositions and rendition. His 2012 "Klose to my Heart" concert tour was a huge success and touched countless hearts and now he's back with another captivating concert called "Klose to my Soul" to touch your soul.
Sonu Nigam is an artist who believes in versatility and puts his heart and soul into his performances - just wait and see what excitement he has in store for Bay Area, on May 25th 2014 at SAP Center don't miss out on the "Klose to my Soul" concert and reserve your seats today at www.giftofvision.org.