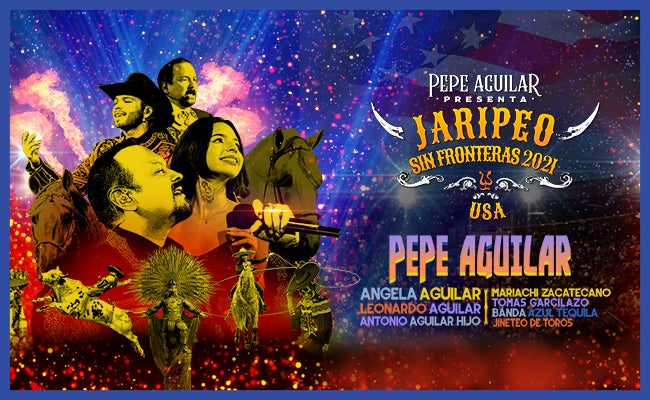 Pepe Aguilar
Event Details
Following an impressive run through the United States and Mexico in 2018 and 2019 with his Jaripeo sin Fronteras tour, iconic Grammy award-winning singer, songwriter and producer Pepe Aguilar announces his return to the stage with 16 new tour dates this fall, produced by Live Nation. Tickets will go on sale beginning Friday, May 7th at 12pm local time at Ticketmaster.com.
Conceptualized by Pepe Aguilar himself, Jaripeo sin Fronteras tour experienced tremendous success for two consecutive years across the U.S. and Mexico, filling every single venue it made stops at. As live music events finally resume this year, Jaripeo sin Fronteras will continue its unstoppable momentum and become one of the first tours to return to the United States in 2021, allowing fans to once again enjoy the unique magic and traditions of the legendary Aguilar family.
Backed by his band El Mariachi "El Zacatecano" and the musical accompaniment of the acclaimed regional Mexican band Banda Sinaloense, fans each night will witness Pepe perform alongside his brother Antonio Aguilar, Hijo; his talented daughter, Grammy and Latin Grammy nominee Ángela; and his son Leonardo, two-time Latin Grammy nominee. A massive production involving more than 150 people, including 40 stage musicians alone, the tour offers a spectacular, once-in-a-lifetime experience for those in attendance, combining sensational music sets with bull fighting and rodeo events, such as horse riding and equestrian acrobatic performances.
Considered one of the most renowned figures in music, Pepe Aguilar has been delivering hit after hit for more than three decades, garnering praise as one of the most beloved voices in the Spanish speaking world. His innate musical talent has led to the creation of an impressive career that has withstood the test of time, leading to endless recognition and countless awards, including four American Grammys and five Latin Grammy awards.