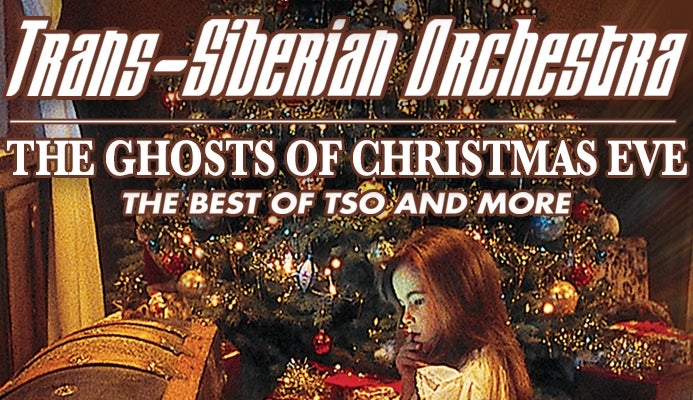 Doors Open

6:30

Parking

$25
TRANS-SIBERIAN ORCHESTRA
THE GHOSTS OF CHRISTMAS EVE
TRANS-SIBERIAN ORCHESTRA ANNOUNCES LETTERS FROM THE LABYRINTH ALBUM BUNDLE WITH 2015 WINTER TOUR TICKETS
Earlier this month, Trans-Siberian Orchestra (TSO) announced the dates of its 2015 Winter Tour based on the group's cherished Yuletide story, "The Ghosts of Christmas Eve." Now, TSO is pleased to announce that each concert ticket will come with a digital copy of the group's highly-anticipated upcoming studio album, Letters From The Labyrinth (Lava Records/Republic Records). Letters From The Labyrinth, which is set to be released Nov. 13, 2015 is TSO's first full-length album since 2009's Night Castle, and fans who purchase tickets to the 2015 Winter Tour will be among the first to hear it.
For every ticket purchased online, fans will receive a digital download of Letters From The Labyrinth on the album's release date.
Letters From The Labyrinth is a bold, conceptually provocative song cycle that finds TSO creator, lyricist and composer Paul O'Neill along with his composers, arrangers, singers and players pushing the proverbial envelope yet again -- this time with what he calls TSO's "first straight-ahead album" in the wake of its signature rock operas.
Fans of the rock operas will still be sated, as the 2015 Winter Tour is based on TSO's multi-platinum DVD and long running PBS fundraiser, the "The Ghosts of Christmas Eve." This enchanting story follows the journey of a young runaway who breaks into an abandoned vaudeville theater seeking shelter from the cold, and the ghostly visions she experiences from that concert hall's past. "The Ghosts of Christmas Eve" features such lasting crowd-pleasers as "Christmas Eve Sarajevo 12/24," "O' Come All Ye Faithful," "Good King Joy," "Christmas Canon," "Music Box Blues," "Promises To Keep," and "This Christmas Day." TSO will take the 2015 Winter Tour to 60 cities across North America to perform 100 shows.