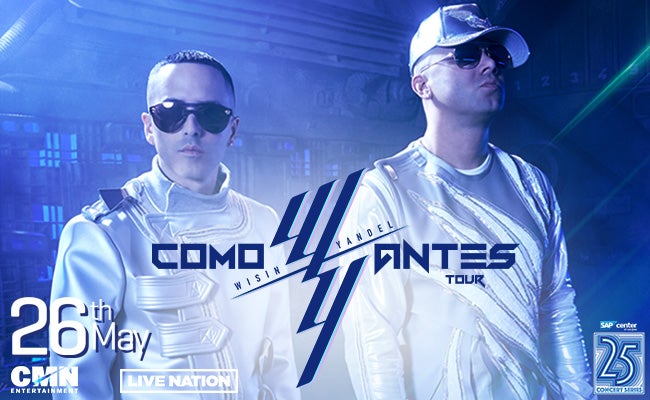 Doors Open

6:00PM

Parking

$25
Wisin & Yandel
Como Antes Tour 2019
Latin music's most iconic duo, Wisin & Yandel, announced their first U.S. tour since their five-year hiatus with the Como Antes Tour 2019. This tour is co-produced by Live Nation and CMN.
Wisin & Yandel also released their first album in over five years, Los Campeones del Pueblo / The Big Leagues. It marks their tenth studio album and the first one they have recorded together since the multi-award-winning album Líderes (released July 3, 2012.) The new album is available now on all digital platforms.
The duo also just held 8 sold-out shows at the prestigious Coliseo de Puerto Rico on November 30th, setting a new record for the most consecutive shows held at the venue as well as the most shows performed there by any act, with a grand total of 25.
About Wisin & Yandel
Yandel and Wisin are beloved artists that have garnered non-stop hits in their solo careers, yet as Latin music dúo Wisin & Yandel they have enjoyed unparalleled success, becoming the top selling Latin urban artists in the world, with their music and concerts.
During their 14 year career as a duo, Wisin & Yandel received numerous multi-platinum certifications in the United States and Latin America and dozens of prestigious awards including a Grammy and two Latin Grammys; as well as ten Billboard Latin Airplay #1s. On tour, Wisin & Yandel have proven to be a force to be reckoned with, becoming the only artists in the Urban Latin Music genre to sell out both the Staples Center and Madison Square Garden in the US. Wisin & Yandel's shows are nothing short of exhilarating. The duo travels with their 10-piece band, 8 dancers, and a state-of-the art audiovisual show; but the true stars, absolutely are Wisin & Yandel and their unique brand of Latin urban music, a fusion of genres and styles delivered with a power and passion that no one in their musical genre can match.