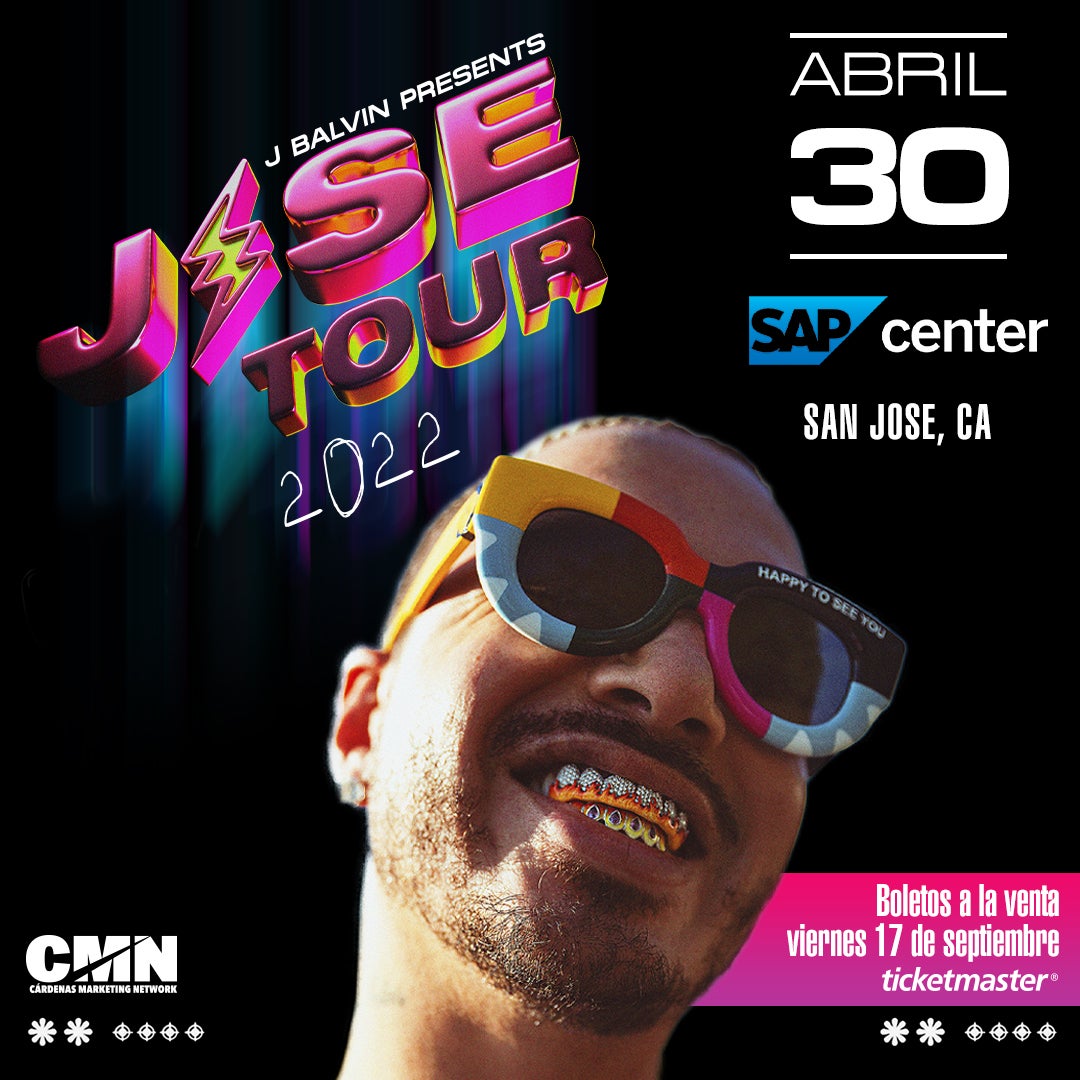 Doors Open

7:00PM

Ticket Prices

Start at $65

Parking

2.5 hours before show Lot ABC $25

Camera Policy

NO VIDEO & AUDIO RECORDERS, NO CAMERAS, NO BOTTLES OR CANS, NO ALCOHOL.  NO LASER PENS. 
J Balvin
Jack Daniel's Concert Experience Available (VIP)
The Prince of Reggaeton J Balvin is stopping in San Jose, CA during his worldwide tour "Jose" on April 30, 2022!
"Reggaeton's Global Ambassador" and 5-time LATIN GRAMMY winner J Balvin is now one of the Top 10 most streamed artists in 11 different countries on Spotify and Top 10 in 14 countries on Apple Music, regardless of language, and has developed a legion of fans worldwide. Hailed by Billboard as "the biggest breakout act Latin music has seen in many years" and Pitchfork as "the face of modern Reggaeton," Balvin is leading a second generation of Urban music stars that have propelled Latin music to an unprecedented global embrace. His latest album, Jose, arrives on the heels of an eventful summer, following the release of chart-dominating singles "Qué Más Pues?" featuring Argentinian singer María Becerra, "Que Locura," and "In Da Getto" featuring Skrillex. With "In Da Getto" recently topping the charts, J Balvin officially lands his 31st #1 at Latin Airplay in history and cementing him as Latin music's biggest success story of the decade. With his music and impact on the culture, Balvin has cemented himself as not only a leader of Reggaeton but as a torchbearer of the new state of Latin music by continuously expanding the limits of the genre and paving the way for "la nueva escuela."