Aug 5, 2019
COUNTRY MUSIC STARS HUNTER HAYES AND DEVIN DAWSON TO OPEN FOR BLAKE SHELTON ON OPENING NIGHT OF SAP CENTER 25 FESTIVAL WEEKEND
COUNTRY MUSIC SUPERSTARS TO PERFORM AT SAP CENTER AT SAN JOSE ON FRIDAY, SEPTEMBER 13 AS PART OF SAP CENTER 25 FESTIVAL WEEKEND WHICH ALREADY INCLUDES KINGS OF THE WEST (SNOOP DOGG & ICE CUBE) AND MALUMA
SAP CENTER 25 FESTIVAL WEEKEND TO BE HELD SEPTEMBER 13-15, 2019; INCLUDES LIVE MUSIC PERFORMANCES INSIDE AND FREE PERFORMANCES OUTSIDE THE VENUE WITH FOOD AND BEVERAGE, CRAFT AREAS, GAMES, RIDES, AND MORE
SAN JOSE, Calif (August 5, 2019) -- SAP Center at San Jose (@SAPCenter), the top-ranked arena in the Bay Area, announced today that it has added country music stars Hunter Hayes and Devin Dawson to its lineup of performers appearing at SAP Center 25 Festival Weekend, a three-day music festival presented by SAP to be held September 13-15, 2019. Hayes and Dawson will open for country music superstar and GRAMMY © Award nominee Blake Shelton on the festival's opening night scheduled for September 13. They join an already impressive lineup of previously announced headline artists which includes the Kings of the West brought to you by Uncle Snoop's Army (Snoop Dogg, Ice Cube, E-40, The Game, Too Short, Warren G, The Psycho Realm, and Berner ) who will perform on Saturday, September 14 and Colombian reggaeton singing sensation Maluma who will perform on Sunday, September 15.
Tickets to all three headline acts of the SAP Center 25 Music Festival are on-sale now all shows are available for purchase at the ThreatMetrix Ticket Office located at SAP Center as well as online at www.ticketmaster.com.
Louisiana native Hunter Hayes has achieved over 1.5 billion on-demand career streams globally and three chart-topping singles, including his five-time multi-platinum crossover single "Wanted," which received a GRAMMY© nomination for Best Country Solo Performance. The massive crossover hit, featured on his two-time multi-platinum debut album Hunter Hayes, is well beyond 120 million streams on Spotify alone and became his first No. 1 single on the Country Airplay charts solidifying him as the youngest solo male artist to top Billboard's Hot Country Songs chart in over 40 years. The self-titled debut has accumulated more than 500 million on-demand streams in the U.S. alone and also includes the Platinum-certified No. 1 "Somebody's Heartbreak," the two-time multi-Platinum "I Want Crazy" and the Gold-certified singles "Everybody's Got Somebody But Me" and "Storm Warning." In 2018, Hayes also released the unflinchingly honest and introspective song "Dear God," which has amassed over 25 million streams globally. With Rolling Stone calling it an "anthem for the anxious," Taste of Country also declared: "leave it to Hunter Hayes to release a song that speaks the truth." 2019 marks the release of his latest single "Heartbreak" and his Closer To You 20-date headlining tour, which wrapped this past spring.
Devin Dawson is a country singer and songwriter with a keen ear for clever turns of phrase and a knack for splitting the difference between rootsy and contemporary. A native of Orangevale, California, Dawson spent his formative years soaking in the sounds of Creedence Clearwater Revival, Alan Jackson, Marvin Gaye, and Johnny Cash. In 2012, he packed his bags and headed to Nashville, where he became ensconced in the Music City songwriting machine, penning songs for other artists. After spending a few years honing his chops, he decided to strike out on his own, and enlisted the help of producer Jay Joyce (Eric Church, Little Big Town, Brothers Osborne). He inked a deal with Warner Music Nashville and released his debut single, "All on Me," which reached the Top 5 on the Hot Country Songs chart and recently crossed 200 million on demand streams on Spotify. The track was included on his 2018 full-length debut, Dark Horse, which also included collaborations with songwriters Luke Laird, Josh Kerr, Seth Ennis, and others. The album cracked the Top 50 of the Billboard 200 and peaked at number five on the Top Country Albums chart.
The SAP Center 25 Festival Weekend marks the culmination of a year-long celebration of 25 years of SAP Center memories. The SAP Center 25 Festival Weekend includes three days of live music performances featuring local artists on an outdoor stage in Arena Green followed by headline concerts inside the SAP Center.
The outdoor festival takes place in the park directly across Autumn Street from SAP Center from 2- 7 p.m. each day and is FREE to all attendees. The festival will include sponsor booths, craft booths by local artisans, interactive games and rides, and a variety of food and beverage options available for purchase.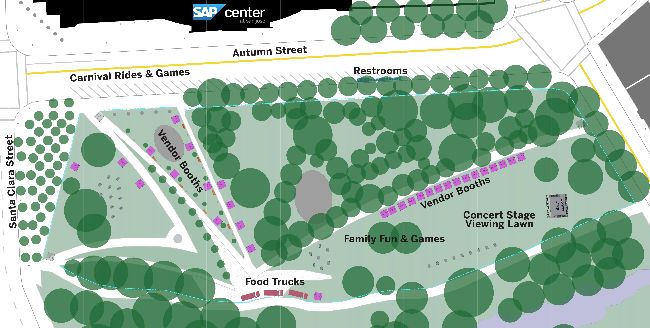 SAP Center opened its doors on September 7, 1993 when the Ringling Brothers & Barnum and Bailey Circus performed the first event in the brand new, state-of-the-art facility. Since that time, the venue has hosted the biggest names in the entertainment industry including Katy Perry, Paul McCartney, Adele, The Rolling Stones, Bruce Springsteen, Barbra Streisand, Bob Dylan, Beyoncé, Elton John, Garth Brooks, Jay-Z, The Three Tenors (Placido Domingo, Luciano Pavarotti and Jose Carreras), Madonna, Lady Gaga, Prince, Los Tigres Del Norte, Marc Anthony, The Eagles and U2.
SAP Center has also hosted many world-class, championship sporting events including: the 2016 Stanley Cup Final; two NHL All-Star Games (1997 & 2019); two Olympic Trials for USA Gymnastics (2012 & 2016); five NCAA Men's Division I Basketball Western Regional Finals (1997, 2002, 2007, 2017, 2019); the Pac-10 Women's Basketball Tournament (2003-07); 1999 NCAA Division I Women's Final Four; and three U.S. Figure Skating Championships (1996, 2012, & 2018).
SAP Center continues to be recognized as the biggest success story in the ongoing revitalization of downtown San Jose. Over the last ten years, SAP Center's economic impact on the City of San Jose has been almost $4 Billion. With its distinguishing 10-story glass pyramid entry and unique stainless steel façade, the facility has provided a distinct identity for the City of San Jose for 25 years. Located in the heart of Silicon Valley, SAP Center is an exemplification of the architectural excellence and technological innovation that defines the area.
About SAP Center at San Jose
Located in the heart of Silicon Valley, SAP Center at San Jose is the premier sports and entertainment venue in Northern California. Each year, SAP Center hosts approximately 175 events featuring professional and amateur athletes, Olympic athletes, Grammy award-winners, international recording artists, and a variety of performers who appeal to children and families alike. SAP Center at San Jose is home to the San Jose Sharks (@SanJoseSharks) of the National Hockey League as well as the San Jose Barracuda (@SJBarracuda) of the American Hockey League. Over the last ten years, SAP Center's economic impact on the City of San Jose has been almost $4 Billion. For more information about SAP Center at San Jose and for a list of upcoming events, visit the SAP Center home page at www.sapcenter.com.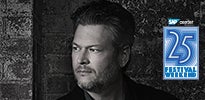 with Hunter Hayes and Devin Dawson - SAP Center 25 Festival Weekend