May 14, 2019
COUNTRY MUSIC SUPERSTAR BLAKE SHELTON ADDED TO SAP CENTER 25 THREE-DAY MUSIC FESTIVAL WEEKEND
GRAMMY NOMINATED COUNTRY MUSIC SUPERSTAR ADDED TO STELLAR MUSIC FESTIVAL LINEUP WHICH ALREADY INCLUDES THE KINGS OF THE WEST (SNOOP DOGG & ICE CUBE) AND MALUMA
SAP CENTER 25 FESTIVAL WEEKEND TO BE HELD SEPTEMBER 13-15, 2019;
INCLUDES LIVE MUSIC PERFORMANCES INSIDE AND OUTSIDE THE VENUE, FOOD AND BEVERAGE,
CRAFT AREAS, GAMES, RIDES, AND MORE
SAN JOSE, Calif (May 14, 2019) -- SAP Center at San Jose (@SAPCenter), the top-ranked arena in the Bay Area, announced today that it has added Country Music Superstar Blake Shelton to its lineup of headline performers appearing at its three-day music festival weekend to be held September 13-15, 2019. Shelton joins an already impressive lineup of previously announced artists which includes the Kings of the West brought to you by Uncle Snoop's Army (Snoop Dogg, Ice Cube, E-40, The Game, Too Short, Warren G, and The Psycho Realm ) and Colombian reggaeton singing sensation Maluma.
Shelton will perform at SAP Center on Friday, September 13 while Kings of the West will perform on Saturday, September 14 and Maluma on Sunday, September 15. Tickets to both the Kings of the West performance and the Maluma performance are on-sale NOW. Tickets to Shelton's performance will go on-sale on Friday, May 17 at 10 a.m. All tickets for all shows are available for purchase at the ThreatMetrix Ticket Office located at SAP Center as well as online at www.ticketmaster.com.
Country Music Association's 2012 "Entertainer of the Year," five-time Male Vocalist of the Year winner and GRAMMY nominee Blake Shelton continues to add to his superstar status. His most recent album Texoma Shore became his sixth record to debut at No. 1 on the Billboard Top Country Albums chart and marked his 11th all-genre Top 10. Texoma Shore features tracks including "I Lived It" and "I'll Name The Dogs," a romantic tune that boasts more than 115 million streams and marked his 25th No. 1 song. In the week following the album launch, Shelton became the first artist in Country Aircheck/Mediabase history to have six songs chart simultaneously. Texoma Shore follows 2016's Gold-certified If I'm Honest, the best-selling country album release of the year, which spawned three chart-topping songs and earned him a No. 1 on both the Billboard Top Country Albums and the all-genre Top Album Sales charts.
A member of the Grand Ole Opry, Shelton has earned a host of honors throughout his career including 20 ACM nominations and both the male and overall Video of the Year trophies at the 2018 CMT Awards. As a coach for the Emmy Award-winning television show The Voice, Shelton is a six-time champion, most recently with his contestant Chloe Kohanski.
The SAP Center 25 three-day music festival marks the culmination of a year-long celebration of 25 years of SAP Center memories. The SAP Center 25 Festival Weekend includes three days of live music performances featuring local artists on an outdoor stage in Arena Green followed by headline concerts inside the SAP Center.
The outdoor festival takes place in the park directly across Autumn Street from SAP Center from 2- 7 p.m. each day and is FREE to all attendees. The festival will include sponsor booths, craft booths by local artisans, interactive games and rides, and a variety of food and beverage options available for purchase.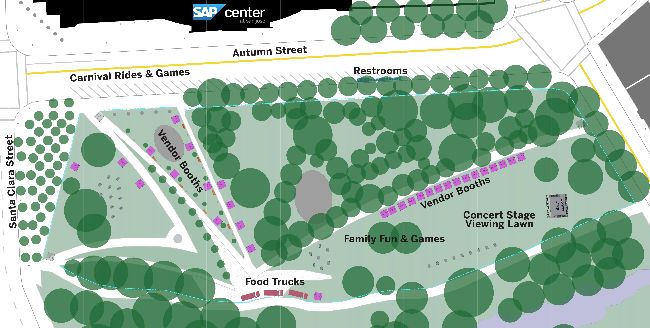 SAP Center opened its doors on September 7, 1993 when the Ringling Brothers & Barnum and Bailey Circus performed the first event in the brand new, state-of-the-art facility. Since that time, the venue has hosted the biggest names in the entertainment industry including Katy Perry, Paul McCartney, Adele, The Rolling Stones, Bruce Springsteen, Barbra Streisand, Bob Dylan, Beyoncé, Elton John, Garth Brooks, Jay-Z, The Three Tenors (Placido Domingo, Luciano Pavarotti and Jose Carreras), Madonna, Lady Gaga, Prince, Los Tigres Del Norte, Marc Anthony, The Eagles and U2.
SAP Center has also hosted many world-class, championship sporting events including: the 2016 Stanley Cup Final; two NHL All-Star Games (1997 & 2019); two Olympic Trials for USA Gymnastics (2012 & 2016); five NCAA Men's Division I Basketball Western Regional Finals (1997, 2002, 2007, 2017, 2019); the Pac-10 Women's Basketball Tournament (2003-07); 1999 NCAA Division I Women's Final Four; and three U.S. Figure Skating Championships (1996, 2012, & 2018).
SAP Center continues to be recognized as the biggest success story in the ongoing revitalization of downtown San Jose. Over the last ten years, SAP Center's economic impact on the City of San Jose has been almost $4 Billion. With its distinguishing 10-story glass pyramid entry and unique stainless steel façade, the facility has provided a distinct identity for the City of San Jose for 25 years. Located in the heart of Silicon Valley, SAP Center is an exemplification of the architectural excellence and technological innovation that defines the area.
About SAP Center at San Jose
Located in the heart of Silicon Valley, SAP Center at San Jose is the premier sports and entertainment venue in Northern California. Each year, SAP Center hosts approximately 175 events featuring professional and amateur athletes, Olympic athletes, Grammy award-winners, international recording artists, and a variety of performers who appeal to children and families alike. SAP Center at San Jose is home to the San Jose Sharks (@SanJoseSharks) of the National Hockey League as well as the San Jose Barracuda (@SJBarracuda) of the American Hockey League. Over the last ten years, SAP Center's economic impact on the City of San Jose has been almost $4 Billion. For more information about SAP Center at San Jose and for a list of upcoming events, visit the SAP Center home page at www.sapcenter.com.
###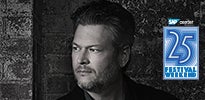 with Hunter Hayes and Devin Dawson - SAP Center 25 Festival Weekend