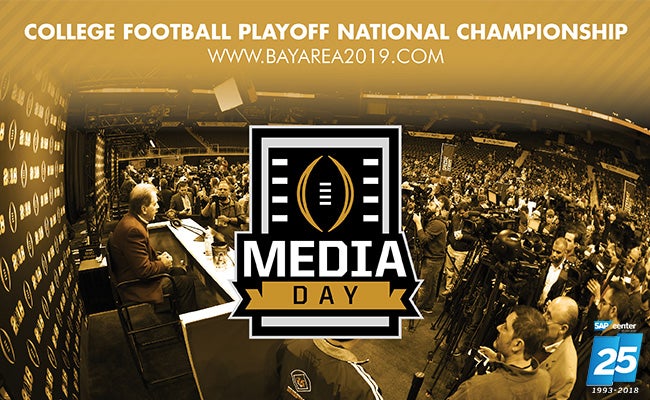 College Football Playoff National Championship Media Day 2019
More than 100,000 Bay Area residents and visitors from across the country are expected to attend fan events preceding kickoff of the 2019 College Football Playoff (CFP) National Championship at Levi Stadium on January 7. A Championship Campus experience has been developed that will transform the Bay Area region into a four-day celebration of college football.
"Championship Campus is the name of the area that encompasses the many public events during the weekend prior to the national championship," said CFP Executive Director Bill Hancock. "Yes, the national champion will be crowned Monday night. But the weekend will be much more—it will be an opportunity for fans of all ages to sample what college football is all about. With the help of the Bay Area Host Committee, we have developed a fan-friendly, walkable campus that thousands will enjoy come January."
"When we talk about bringing mega events to the Bay Area, the College Football Playoff National Championship ticks all the boxes; it's more than a football game," said Bay Area Host Committee Executive Director Patricia Ernstrom. "The entire Bay Area will feel the effect of this event, as well as the huge impact that will be made in the region's classrooms via the College Football Playoff Foundation's Extra Yard for Teachers Program. The Championship weekend's events will allow us to shine a spotlight on Silicon Valley to a national audience in a way that few events can."
On Saturday, January 5, fans will be invited to Media Day here at SAP Center. A free event, Media Day will provide fans the unique opportunity to watch and listen as members of the national media conduct interviews with coaches and student- athletes from the two participating teams.
The 2019 College Football Playoff National Championship will kick off on Monday, January 7.
For more information on the College Football Playoff and the 2019 national championship game, visit www.collegefootballplayoff.com. To learn more about supporting local efforts and the Bay Area Host Committee, visit www.BayArea2019.com.