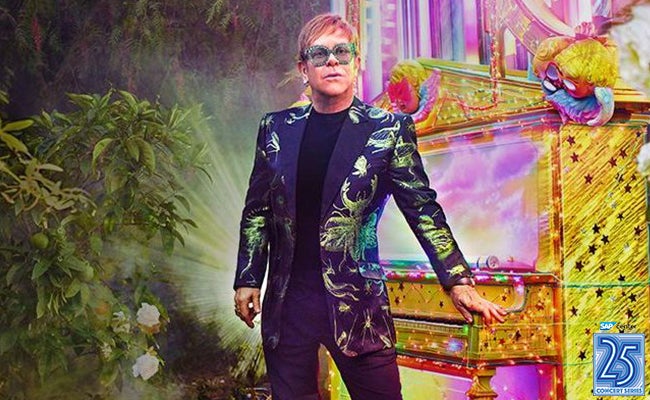 Elton John
Farewell Yellow Brick Road Tour
After more than half a century on the road and an unparalleled career that has redefined the cultural landscape and seen Elton John claim his place as a true global icon, the superstar today announced via an exclusive VR180 live stream on YouTube, details of his final tour called 'Farewell Yellow Brick Road'.
Kicking off in the U.S. on September 8, 2018, the 'Farewell Yellow Brick Road' tour will consist of more than 300 shows across five continents, hitting North America, Europe, Asia, South America and Australasia before reaching its conclusion in 2021. These dates mark the superstar's last-ever tour, the end of half a century on the road for one of pop culture's most enduring performers. Elton's new stage production will take his fans on a musical and highly visual journey spanning a 50-year career of hits like no one has ever seen before.
"Performing live fuels me and I'm ecstatic and humbled to continue to play to audiences across the globe," said Elton. "I plan to bring the passion and creativity that has entertained my fans for decades to my final tour. After the tour finishes, I'm very much looking forward to closing off that chapter of my life by saying farewell to life on the road. I need to dedicate more time to raising my children."
"It is truly an honor to be associated with Elton John, one of music and pop culture's most legendary, innovative and unrivaled performers," said Jay Marciano, Chairman and CEO, AEG Presents, promoters of the global 'Farewell Yellow Brick Road' tour. "In a manner and style that could only be conceived by such a renowned artist, Elton's 'Farewell Yellow Brick Road' concerts will be the ultimate and final opportunity for his millions of fans around the world to experience this generation's most incomparable and iconic entertainer."
The news was announced to the world in the very manner that has defined Elton and his creative output over a dazzling career - innovative, daring and constantly taking bold strides into the future.
Centered around a marquee event at Gotham Hall in New York City, the announcement was live streamed globally exclusively on YouTube in VR180, and simultaneously transmitted to venues in Los Angeles and London. The immersive experience at the event - and all around the world thanks to YouTube's VR180 technology - allowed fans to revisit some of the defining moments that set Elton on his unstoppable path to global superstardom. Transformation, after all, is part of Elton's DNA, and he adeptly used the latest technology to help him defy space and time, connecting his past and future. Event footage along with additional 'behind the scenes' videos in VR180 tracking Elton's journey, supported by YouTube, will be available at youtube.com/eltonjohn.
---
Outlined below are a few "Key Things to Know" about the event and SAP Center at San Jose. If you have any further questions, please don't hesitate to call us at 408-287-7070.
---
EVENT TIMELINE
Please keep the following times in mind as you plan your arrival at SAP Center:
Will Call opens at 6:00 p.m.
Doors open at 6:30 p.m.
Event is scheduled to begin at 8:00 p.m.
*All times are subject to change
---
SAP CENTER FAQs
Our entire SAP Center Guest Services team is here to make sure your visit to our venue is an exceptional one! Click here for Frequently Asked Questions.
---
DIRECTIONS & PARKING
Driving to SAP Center?
Get turn by turn directions here.

Parking Options
Upon arrival at SAP Center at San Jose, you will have a number of easily accessible on-site parking options for only $25 per car. Additional parking options are available at varied prices and distances from the arena. You can view the full parking map here.
---
PUBLIC TRANSPORTATION
With a heavy volume of traffic expected, we encourage all attendees to take advantage of the San Jose Diridon station located immediately across the street from SAP Center.

This station location allows you to easily travel to and from the event via several public transportation options. For more info, click here.
---
SPECIAL ASSISTANCE
Guests requiring accessible parking and a convenient passenger drop-off area may park in SAP Center's ABC Parking Lot and enter through the North Entrance. The North Entrance is adjacent to the parking lot.
A complete list of accessibility services can be found here.
---
Using Uber to get to the show? All you need to do is:
Download the Uber app and enter promo code SAPCENTER2019 or click here to sign up and get your first Uber ride free, up to $20.
Request a ride through the Uber app and set your destination as SAP Center.
Ask your driver to drop you off in our designated drop off locations on Autumn and Montgomery Streets. After the show, walk west of the arena and request your ride from the Uber Zone on Stockton Avenue for the smoothest pick-up experience.