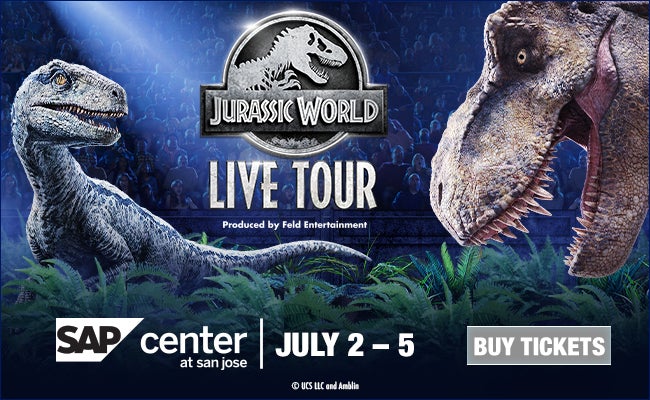 Cancelled: Jurassic World Live Tour
Thursday, July 2, 2020 TBA

Friday, July 3, 2020 TBA

Saturday, July 4, 2020 TBA

Sunday, July 5, 2020 11:00 AM

Add to Calendar
Due to the increasing spread of COVID-19 and expanding restrictions on domestic and international travel, and in accordance with national, state and local governments prohibiting large group gatherings, the Jurassic World Live Tour scheduled for July 2-5, 2020 at SAP Center at San Jose has been cancelled.
Refund Information:
Tickets purchased with a credit card through ticketmaster.com will receive automatic refunds to the original card used for purchase.

For tickets purchased at SAP Center:

As per the Shelter in Place order, the LexisNexis Risk Solutions Ticket Office at SAP Center will remain closed until the order is rescinded and SAP Center operations can reopen. Unfortunately, we will not be able to refund tickets purchased at the box office windows until we reopen. We apologize for the inconvenience at this time and will take care of your request as soon as it is possible.

For the latest updates, please click here.

If you purchased your tickets elsewhere, contact your point of purchase directly.

Refund information is located at https://blog.ticketmaster.com/guidelines-canceled-postponed-events/ for Ticketmaster purchasers.