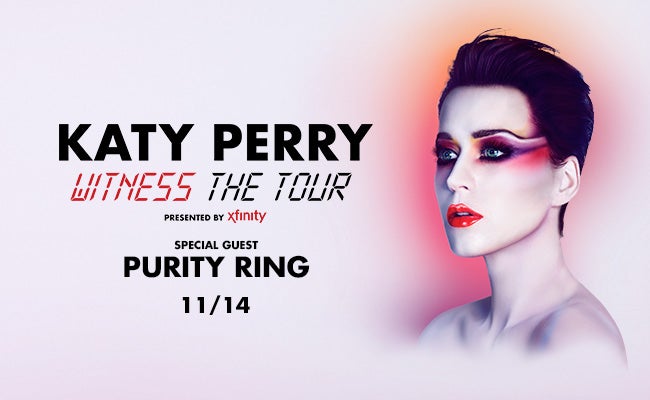 Doors Open

5:45PM

Parking

$25
Katy Perry: Witness World Tour
With Purity Ring
With Witness, Katy Perry reflects on the changes in her own life and in the world around her, delivering songs that both challenge and inspire. The singles – the Platinum-certified "Chained to the Rhythm" featuring Skip Marley and the follow-up single, "Bon Appétit" featuring Migos – hint at the breadth of the musical and thematic elements found on Witness.
WITNESS: The Tour follows Katy's sold-out, 151-date Prismatic World Tour, which concluded in 2015 and was hailed by Rolling Stone as "a show to damage retinas and blow minds."
Katy cemented her status as a global superstar with the follow-up album, Teenage Dream (2010). PRISM, her 2013 album, debuted at No. 1 on iTunes in 100 countries and has sold more than 12.5 million adjusted albums worldwide. With the singles "Firework" and "Dark Horse" each surpassing the 10 million threshold including song sales and streams, Katy is the first female artist to earn two RIAA Digital Single Diamond Awards. In her 10 years with Capitol, she has racked up a cumulative 18+ billion streams alongside worldwide sales of more than 40+ million adjusted albums and 125+ million tracks. She is the most-followed person globally on Twitter.
Purity Ring is an electronic pop duo originally from Edmonton, Canada. In 2012 they released debut album Shrines; a cohesive, beguiling and wholly unique universe of what the band called 'Future Pop'. At the center of the amniotic swirl of Shrines was an undeniable nucleus of crystalline pop which presciently suggested both indie and popular music to come. Critics were effusive: 'Best New Music' from Pitchfork and praise from The New York Times, Rolling Stone, and NPR, among others. They quickly amassed a rabid fanbase, toured relentlessly and sold out shows worldwide.