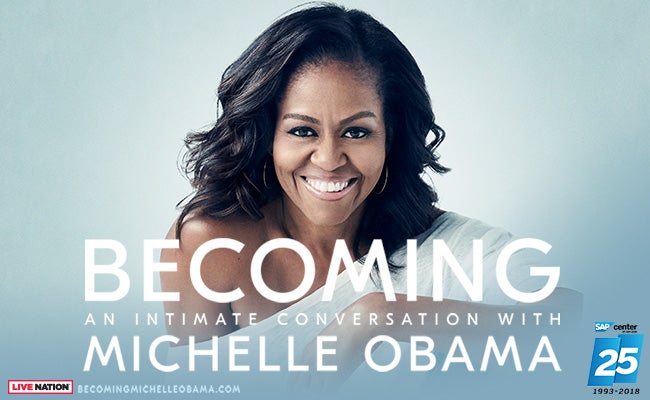 Doors Open

6:45PM

Parking

$25
Becoming: An Intimate Conversation with Michelle Obama
Michelle Obama's live U.S. book tour events in support of her highly anticipated memoir, BECOMING will come to SAP Center at San Jose on December 14, and will feature intimate and honest conversations between Mrs. Obama and a selection of to-be-announced moderators, reflective of the extraordinary stories shared in the wide-ranging chapters of her deeply personal book.
Michele Norris will moderate the upcoming San Jose stop on Friday, December 14th at SAP Center at San Jose. Michele Norris is one of the most trusted voices in American journalism. She is the former host of NPR's All Things Considered and Founding Director of The Peabody Award-winning Race Card Project. Norris is the author of The Grace of Silence and has worked for ABC News, The Washington Post, The Chicago Tribune and The Los Angeles Times. She is The Executive Director of The Bridge, the Aspen Institute's program that uses narrative exchange to create connections among people of different backgrounds and perspectives.
---
Outlined below are a few "Key Things to Know" about the event and SAP Center at San Jose. If you have any further questions, please don't hesitate to call us at 408-287-7070.
---
EVENT TIMELINE
Please keep the following times in mind as you plan your arrival at SAP Center:
Will Call opens at 6:00 p.m.
Doors open at 6:45 p.m.
Event is scheduled to begin at 8:00 p.m.
*All times are subject to change
---
SAP CENTER FAQs
Our entire SAP Center Guest Services team is here to make sure your visit to our venue is an exceptional one! Click here for Frequently Asked Questions.
---
DIRECTIONS & PARKING
Driving to SAP Center?
Get turn by turn directions here.

Parking Options
Upon arrival at SAP Center at San Jose, you will have a number of easily accessible on-site parking options for only $25 per car. Additional parking options are available at varied prices and distances from the arena. You can view the full parking map here.
---
PUBLIC TRANSPORTATION
With a heavy volume of traffic expected, we encourage all attendees to take advantage of the San Jose Diridon station located immediately across the street from SAP Center.

This station location allows you to easily travel to and from the event via several public transportation options. For more info, click here.
---
SPECIAL ASSISTANCE
Guests requiring accessible parking and a convenient passenger drop-off area may park in SAP Center's ABC Parking Lot and enter through the North Entrance. The North Entrance is adjacent to the parking lot.
A complete list of accessibility services can be found here.
---
SECURITY CHECKS
SAP Center at San Jose conducts security checks with walk-through metal detectors at every event. All large bags, large backpacks and suitcases will not be permitted in the building. Permissible bags must be able to fit underneath your seat without blocking the aisle way. Baby bags are permitted, but baby strollers and baby carriers are not permitted. SAP Center at San Jose offers the service of checking in baby strollers and carriers at all events.
---
USING THE UBER ZONE AT SAP CENTER
Using Uber to get to the show? All you need to do is:
Download the Uber app and enter promo code SAPCENTER2018 or click here to sign up and get your first Uber ride free, up to $20.
Request a ride through the Uber app and set your destination as SAP Center.
Ask your driver to drop you off in our designated drop off locations on Autumn and Montgomery Streets. After the show, walk west of the arena and request your ride from the Uber Zone on Stockton Avenue for the smoothest pick-up experience.