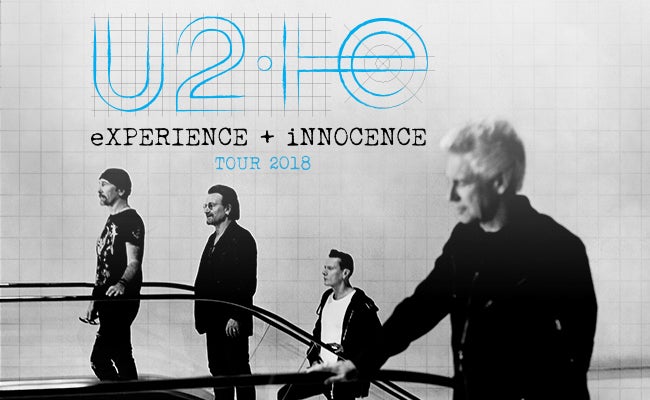 Doors Open

6:30PM

Parking

$25
U2
Experience + Innocence Tour
Songs of Experience, the 14th studio album from U2, will be released December 1st, 2017 by Interscope Records in the U.S. and via Universal Canada on CD, vinyl, digital download and across streaming platforms. Accompanying the announcement of the Songs of Experience release, Live Nation has confirmed that U2's eXPERIENCE + iNNOCENCE Tour will begin in North America in April 2018.
Just as Songs of Experience serves as a companion piece to 2014's Songs of Innocence, the eXPERIENCE + iNNOCENCE Tour will serve as a sequel to 2015's iNNOCENCE + eXPERIENCE Tour which saw "U2 reinvent the arena show" (Rolling Stone) and was named the #1 concert of 2015 by The New York Times. The tour will kick off on Wednesday, May 2nd 2018 in Tulsa at the BOK Center. Full itinerary below.
Pre-order of Songs of Experience is available now across all digital platforms and will include three instant grat songs: The previously unreleased "Get Out of Your Own Way," first single "You're The Best Thing About Me" which was released on September 6th, and the album version of "The Blackout," previously released as a performance video in August. All three songs are available now to stream across all platforms. Fans who pre-order the deluxe version of the album will also receive the Kygo remix of "You're The Best Thing About Me."
In addition to unveiling album artwork by Anton Corbijn, U2 has revealed the final tracklist of Songs of Experience which was completed earlier this year. The lyrical approach of the album was greatly inspired by Irish poet, novelist and Trinity College, Dublin Professor Emeritus Brendan Kennelly's advice to Bono to "write as if you're dead', resulting in a collection of songs in the form of intimate letters to places and people close to the singer's heart - family, friends, fans, himself.
Songs of Experience is the companion release to 2014's 'Songs of Innocence', the two titles drawing inspiration from a collection of poems, Songs of Innocence and Experience, by the 18th century English mystic and poet William Blake. Produced by Jacknife Lee and Ryan Tedder, with Steve Lillywhite, Andy Barlow and Jolyon Thomas, the album features a cover image by Anton Corbijn of band-members' teenage children Eli Hewson and Sian Evans. The full track listing for the album is:
1. Love Is All We Have Left
2. Lights of Home
3. You're The Best Thing About Me
4. Get Out of Your Own Way
5. American Soul
6. Summer of Love
7. Red Flag Day
8. The Showman (Little More Better)
9. The Little Things That Give You Away
10. Landlady
11. The Blackout
12. Love Is Bigger Than Anything in Its Way
13. 13 (There is a Light)