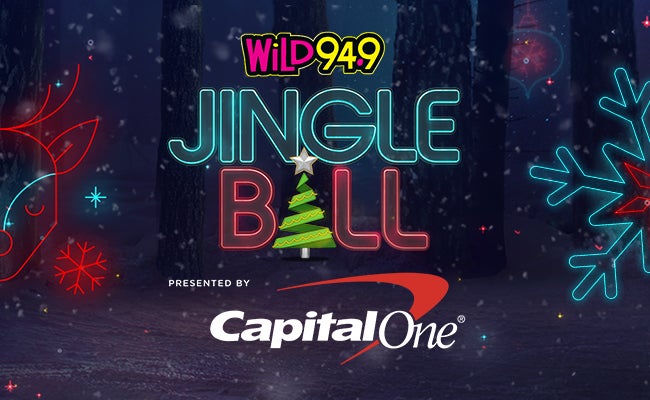 Doors Open

6:30PM

Parking

$25
WiLD 94.9's Jingle Ball Presented by Capital One
Wild 94.9, The Bay's #1 Hit Music Station, unveiled the star-studded lineup for its annual holiday concert, Wild 94.9's Jingle Ball 2017, Presented by Capital One®, taking place on Thursday, November 30, 2017 at 7:30 p.m. at the SAP Center in San Jose. Wild 94.9's Jingle Ball 2017 is part of the national iHeartRadio Jingle Ball Tour Presented by Capital One, the season's biggest annual music event that captures the holiday spirit of the iHeartRadio app, in Dallas; San Francisco/San Jose; Los Angeles; Minneapolis; Philadelphia; New York; Boston; Washington, D.C.; Chicago; Atlanta; Tampa and Miami/Ft. Lauderdale.
Wild 94.9 morning show host, JV, announced the all-star performers for Wild 94.9's Jingle Ball 2017 which will include: Demi Lovato, Nick Jonas, Halsey, Charlie Puth, Camila Cabello, Niall Horan, Liam Payne, Hailee Stienfeld, and Why Don't We.
"We're excited to once again present the Bay Area's premiere holiday show featuring the biggest artists in the country that you hear every day on Wild 94.9," said Wild 94.9 Program Director, Mark Adams. "And produced by iHeartMedia in a way that truly creates an unforgettable experience for our listeners", he added.
Every year, Wild 94.9 gives back to the community to celebrate the holiday season. This year's official charity for Wild 94.9's Jingle Ball 2017 is the Ryan Seacrest Foundation – $1.00 of each ticket sold will be donated to the non-profit organization, which is dedicated to inspiring today's youth through entertainment and education focused initiatives.
"The Ryan Seacrest Foundation is honored to team up with the iHeartRadio Jingle Ball Tour for its fifth consecutive year, allowing us to continue to support children's hospitals across the country," said Meredith Seacrest, Executive Director & COO of the Ryan Seacrest Foundation. "We're grateful for iHeartMedia's partnership, which helps us build our state-of-the-art multi-media studios, Seacrest Studios, in pediatric hospitals. These studios provide uplifting and entertaining environments where patients can host their own radio and TV shows, play games and even meet celebrity artists that stop by to visit."