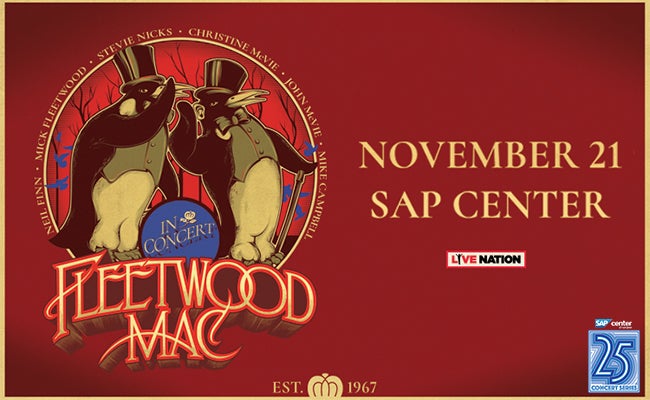 Doors Open

6:45PM

Parking

$25
Fleetwood Mac
Legendary, GRAMMY-award winning band Fleetwood Mac announced a North American tour, set to kick off in October and travel through 50+ cities including a November tour stop here on Wednesday, November 21.
Produced by Live Nation, the tour will feature the newly announced line-up of Mick Fleetwood, John McVie, Stevie Nicks, and Christine McVie along with newcomers Mike Campbell and Neil Finn.
"Fleetwood Mac has always been about an amazing collection of songs that are performed with a unique blend of talents. We jammed with Mike and Neil and the chemistry really worked and let the band realize that this is the right combination to go forward with in Fleetwood Mac style. We know we have something new, yet it's got the unmistakable Mac sound," said Mick Fleetwood.
"We are thrilled to welcome the musical talents of the caliber of Mike Campbell and Neil Finn into the Mac family. With Mike and Neil, we'll be performing all the hits that the fans love, plus we'll be surprising our audiences with some tracks from our historic catalogue of songs," said the group collectively. "Fleetwood Mac has always been a creative evolution. We look forward to honoring that spirit on this upcoming tour."
Fleetwood Mac was founded by Peter Green in 1967 and was named after Mick Fleetwood and John McVie. After Peter Green left in 1969, Fleetwood and McVie remained as original members, and the band has since featured a cast of brilliant talents. Most notably, Christine McVie joined the band in 1970, with Stevie Nicks and Lindsey Buckingham joining in 1974. The enduring spirit of Fleetwood Mac stands for an incredible body of great music that has connected with generations of people all over the world for more than 50 years. Fleetwood Mac has sold more than 100 million records worldwide and the GRAMMY-award winning band was inducted into the Rock and Roll Hall of Fame in 1998.
---
Outlined below are a few "Key Things to Know" about the event and SAP Center at San Jose. If you have any further questions, please don't hesitate to call us at 408-287-7070.
---
EVENT TIMELINE
Please keep the following times in mind as you plan your arrival at SAP Center:
Will Call opens at 6:00 p.m.
Doors open at 6:45 p.m.
Event is scheduled to begin at 8:00 p.m.
*All times are subject to change
---
SAP CENTER FAQs
Our entire SAP Center Guest Services team is here to make sure your visit to our venue is an exceptional one! Click here for Frequently Asked Questions.
---
DIRECTIONS & PARKING
Driving to SAP Center?
Get turn by turn directions here.

Parking Options
Upon arrival at SAP Center at San Jose, you will have a number of easily accessible on-site parking options for only $25 per car. Additional parking options are available at varied prices and distances from the arena. You can view the full parking map here.
---
PUBLIC TRANSPORTATION
With a heavy volume of traffic expected, we encourage all attendees to take advantage of the San Jose Diridon station located immediately across the street from SAP Center.

This station location allows you to easily travel to and from the event via several public transportation options. For more info, click here.
---
SPECIAL ASSISTANCE
Guests requiring accessible parking and a convenient passenger drop-off area may park in SAP Center's ABC Parking Lot and enter through the North Entrance. The North Entrance is adjacent to the parking lot.
A complete list of accessibility services can be found here.
---
USING THE UBER ZONE AT SAP CENTER
Using Uber to get to the show? All you need to do is:
Download the Uber app and enter promo code SAPCENTER2018 or click here to sign up and get your first Uber ride free, up to $20.
Request a ride through the Uber app and set your destination as SAP Center.
Ask your driver to drop you off in our designated drop off locations on Autumn and Montgomery Streets. After the show, walk west of the arena and request your ride from the Uber Zone on Stockton Avenue for the smoothest pick-up experience.