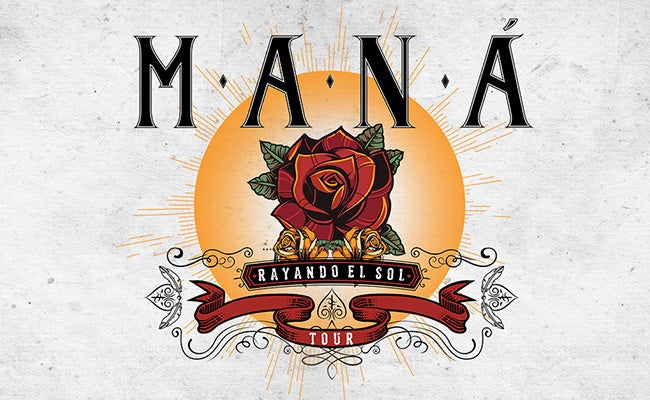 Doors Open

1 Hour Before

Parking

$25
Maná
Rayando El Sol Tour
The biggest rock band in Spanish, Maná, surprised fans by announcing their return to the road on Premio Lo Nuestro. "The most widely sold and heard Latin band in the world" (Billboard) confirmed details of their headlining 'Rayando El Sol Tour' across the United States. The tour is named after their critically acclaimed single, "Rayando El Sol," which was one of the band's first great successes and the kick off to a remarkable career including 4 Grammy Awards, 8 Latin Grammy Awards, 19 Billboard Latin Music Awards and dozens more around the world.
It has been three years since the multi-platinum selling and Grammy Award®-winning rock band last toured. As Latin Rock's most engaging arena-level live band, longtime cultural ambassadors and powerful social advocates, their previous 'LATINO POWER TOUR' sold out venues across the U.S. with a message of unity and empowerment for U.S. Latinos. It featured 80 tons of state of the art concert production gear which traveled across the United States with the goal of uniting and inspiring Latino communities to make their voices heard.

Having formed in Guadalajara, Mexico in 1986, the quartet of Fher Olvera, Alex González, Sergio Vallín and Juan Calleros have gone on to be global envoys for the Latin Rock genre, while selling over 40 million albums. Here in the United States, Maná holds an impressive nine #1 albums and ten #1 singles -more than any other band in the history of Billboard's "Hot Latin Songs" chart. Maná is also unquestionably the top-drawing all-Spanish language concert band in the U.S. with notable attendance records to their name, and the New York Times declaring the group has: "Redefined 'Crossover' in Latin Pop... with its mix of love songs and more pointed political material about immigration and the environment, ...Maná has a mass appeal nearly unrivaled in the Latin pop world."
---
SAP Center's Clear Bag Policy will be in effect. For more information, click here.