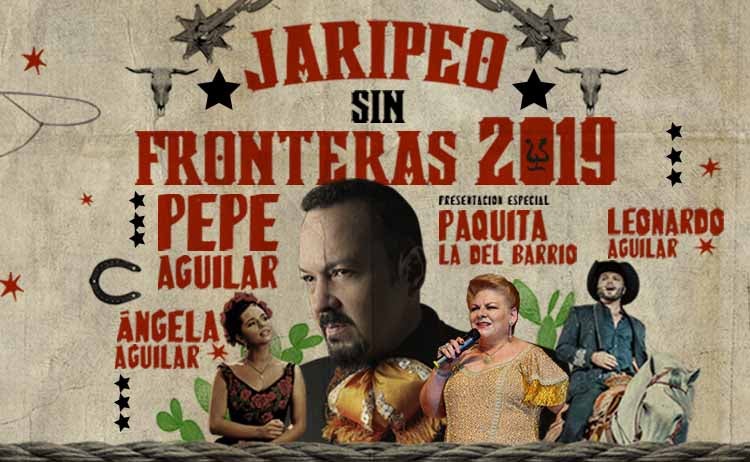 Doors Open

6:00 PM

Parking

$25
Pepe Aguilar
Jaripeo Sin Fronteras
"Jaripeo Sin Fronteras is the night out that America needs right now: family-friendly, fun, with music, horses, and Mexicans," Gustavo Arellano, Los Angeles Times
CMN (Cardenas Marketing Network) has announced that, Jaripeo Sin Fronteras 2019 one of the most exciting tours of the year is coming to SAP Center in San Jose, CA. Mexican superstar Paquita La Del Barrio will join the Aguilar dynasty for the remainder of the tour.
Jaripeo Sin Fronteras features performances by Pepe Aguilar, Leonardo Aguilar, Angela Aguilar, Antonio Aguilar hijo, and Paquita La Del Barrio. It was Pepe's vision to adapt the legendary Aguilar family's touring tradition of Jaripeo for a new generation, an equestrian-musical extravaganza combined with rodeo. The nearly 3-hour show brings together bull riders, trick riders, 15 beautiful horses, rope tricks on horseback, tech and pyro, plus musical performances. It's a multi-generation show for all ages.
Pepe Aguilar made his debut at Madison Square Garden at the age of three performing on horseback with his father Antonio Aguilar who, with his family, toured the entire American continent with the Espectáculo Ecuestre Internacional and Rodeo Show. It was the first equestrian show in the history of Latin show business, built around various life stock disciplines with horses, bulls, buffalos, monkey's, and more. "It was like a Ringling Brothers Mexican Style. He even had folkloric ballet." It was one of the most successful shows of the time. Don Antonio, Doña Flor Silvestre (both parents were acclaimed actors from the golden age of Mexican cinema) along with little Toño and Pepe Aguilar changed the direction of Mexican music forever and became a standard by which the genre was judged.
Pepe Aguilar went on to become one of the most important performers/producers/songwriters in Latin music, selling more than 12 million albums, earning 15 #1 records and numerous awards including four Grammys and five Latin Grammys and a Star on the Hollywood Walk of Fame next to his father. He has collaborated with artists such as will.i.am and Julieta Venegas. Aguilar picked this moment to reclaim the traditions of jaripeo for himself, his family and his fans.
---
EVENT TIMELINE
Please keep the following times in mind as you plan your arrival at SAP Center:
Doors open at 6:00 p.m.
Event is scheduled to begin at 7:00 p.m.
*All times are subject to change
---
SAP CENTER'S NEW CLEAR BAG POLICY TO BE ENFORCED
Bags must be clear and not exceed 12" x 6" x 12" in dimension or be a small clutch purse no larger than 5.0" x 8.0" to be allowed in. All bags will be subject to search upon entry into SAP Center. For more information, click here.
---
SAP CENTER FAQs
Our entire SAP Center Guest Services team is here to make sure your visit to our venue is an exceptional one! Click here for Frequently Asked Questions.
---
DIRECTIONS & PARKING
Driving to SAP Center?
Get turn by turn directions here.

Parking Options
Upon arrival at SAP Center at San Jose, you will have a number of easily accessible on-site parking options for only $25 per car. Additional parking options are available at varied prices and distances from the arena. You can view the full parking map here.
---
SPECIAL ASSISTANCE
Guests requiring accessible parking and a convenient passenger drop-off area may park in SAP Center's ABC Parking Lot and enter through the North Entrance. The North Entrance is adjacent to the parking lot.
A complete list of accessibility services can be found here.